Lesotho Profile

Lesotho, meaning "the land of the people who speak Sesotho" is a small enclave kingdom within the borders of South Africa with a population of 2.142 million (2020). Formerly known as Basutoland, it gained its independence from the United Kingdom in 1966 and became the Kingdom of Lesotho. Like many other African countries following independence, Lesotho suffered from (and suffers from) internal politicking which has left an already disadvantaged country even weaker. There is high unemployment, near economic collapse and a weak currency. It is now estimated that a quarter of all adults in Lesotho have HIV with 50% of all women infected. This is the third highest prevalence of HIV/AIDS anywhere in the world and with an estimated 26,493 people dying from the disease every year from leaving 100,000 children in Lesotho orphaned. Lesotho is in 165th place out of 189 countries and territories in 2019 when ranked in terms of life expectancy (54.33 years), literacy, access to knowledge and the living standards of a country.

Whilst life is already difficult in the mountainous kingdom with only 10% of its land being cultivable, a recent United Nations report concluded that climate change could shrink this even further to just 3% within twenty five years. It is also affected by periodic droughts which have a serious effect on Lesotho's majority rural population who rely on subsistence farming as their primary source of income made worse by poor agricultural practices in the mountainous kingdom. Droughts have occurred in Lesotho for decades, however recent ones have been the worst for over a quarter of a century leaving upwards of a quarter of the population in need of humanitarian aid just to survive. Such droughts have decimated farm crops and many have abandoned the land, not just because of uncertainty as to whether crops will actually end up growing, but also due to a shortage of manpower as AIDS sweeps across the kingdom.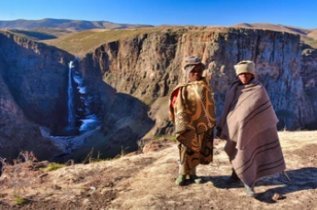 Lesotho is one of the few countries in the world where female literacy is higher than for males. In Lesotho, 84.93% of all women aged 15 years and older are literate, compared to 67.75% of men. This reflects the introduction of free (and compulsory) primary education in 2010 and today the government spends, on average, 9.2% of national GDP on education (compared with 5.4421% in the UK.) As ever, education does not reach everyone, especially in more rural areas. Find out more about Lesotho in a series of profile articles and videos below together with news about Lesotho.
---
Lesotho Profile: Volunteer Work in Lesotho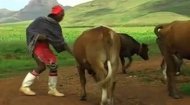 Check out all the latest fee paying and free African volunteer work placements and charity work job opportunities abroad with local projects and volunteering organisations in Lesotho.
---
Lesotho Profile: Lesotho History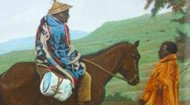 A history of the Kingdom of Lesotho from ancient times, the creation of Basutoland and its transition from colonial past to independence.
---
---
Lesotho Profile: Life in Lesotho



Facts and figures about daily life in Lesotho, an impoverished country in the grip of an HIV epidemic together with a video documentary.
---
Lesotho Profile: Life for Children in Lesotho



Visit our sister site for more information about life for a child in Lesotho in facts and video together with details of projects and programs to support children in Lesotho.
---
---
Lesotho Profile: Maseru Profile



Facts, video and a profile of Maseru, the capital of the KIngdom of Lesotho, together with its history.
---
Lesotho Profile: Lesotho Images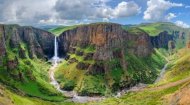 Images of Lesotho, the Kingdom in the Sky, where 80% of the country is higher than Ben Nevis in photographs, video and commentary.
---

Take our online Lesotho trivia quiz and see how much you know about Lesotho together with some interesting facts.
---
---
Lesotho Profile: Sponsor a Child in Lesotho



Details of how to sponsor children in Lesotho with Lesotho child sponsor organisations, charities, programs and projects.
---

Use this Google Earth satellite map of Lesotho to explore and take a virtual tour of Lesotho in Africa and zoom in on places of interest.
---

Read all the latest and breaking news from Lesotho here at our Lesotho profile portal. Updated daily.
---
---