Child Sponsor Lesotho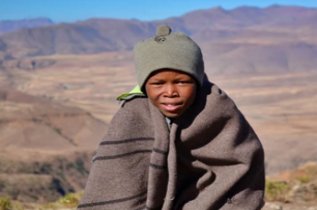 There are over 200,000 orphaned children live in Lesotho (of which 130,000 of them have lost one or both parents to AIDS) and live expectancy is just 54.33 years (2019) not helped by the fact that, despite its small population, Lesotho has the second highest HIV prevalence in the world with 25% of the population, one in four people in the country, living with HIV. Just as disturbing, it is estimated that 12,000 children have the virus (not least because 30% of boys report that they have had sex before the age of 15yrs compared with 6% in developed countries) with many of them abandoned on the streets by non-parental carers who hold a simple view that these children are going to die anyway so why take on the financial burden of supporting them through childhood.

Children in Lesotho have very poor life opportunities. Most have to walk two hours to school and the same back, often arriving at school unable to concentrate due to malnourishment. On their return from school many are required to look after sick parents in addition to other chores such as collecting sticks for firewood and replenishing water supplies. As these children grow up, doctors, teachers and other workers are dying around them in great number from AIDS with no similarly 'skilled' workforce to replace them. Child sponsor programs in Lesotho work with orphan and abandoned children, work to improve access to water, education and healthcare alongside HIV awareness and prevention programs. You can help when your sponsor a child in Lesotho.
---
Child Sponsor Lesotho: The Lighthouse Project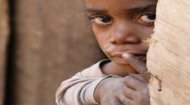 In a shameless bit of self-promotion, read this novel by the African Volunteer Network team about volunteering in Uganda. "Well worth the read especially for those working with non-profits abroad. In fact, it should be required reading."
---
Child Sponsor Lesotho: SOS Children's Villages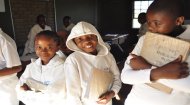 With SOS Children, you can help orphaned and abandoned children when you sponsor a child in Lesotho.
---
Child Sponsor Lesotho: Help Lesotho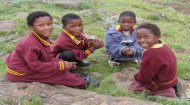 When you sponsor a child in Lesotho with Help Lesotho, your sponsorship supports children in rural communities who otherwise cannot pay the prohibitive school fees.
---
---
Child Sponsor Lesotho: All for One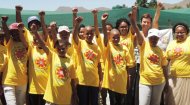 The Lesotho Connection, in partnership with the St. Camillus Centre, works to provide funding for vulnerable children to attend school. It is an amazing experience to sponsor a teen and establish a relationship with a promising young person who truly needs a hand-up.
---
Child Sponsor Lesotho: Ministry of Hope Lesotho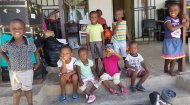 Ministry of Hope Lesotho is a refuge for infants, children and youth in Maseru, capital city of the Kingdom of Lesotho, in southern Africa. They nurture the quality of life for impoverished and orphaned children, before returning them to their families or placing them with adopted families. They provide a home and a future for this country's most vulnerable. Whilst not a child program as such, they need your support to carry out their much needed work.
---
---
Child Sponsor Lesotho: Lesotho Children



Find out more about children's lives in Lesotho in pictures and video together with facts and figures.
---
Child Sponsor Lesotho: Volunteer in Lesotho



As well as sponsoring a child why not explore volunteering opportunities in Lesotho?
---
Child Sponsor Lesotho: Lesotho Profile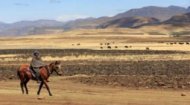 In another of our African country profiles, find out all about Lesotho in a series of information articles, latest daily news, videos, and images together with volunteering and child sponsorship opportunities.
---
---