Egypt Profile

Egypt is perhaps unique across the continent of Africa, not just because of its rich history dating back to the 6th-4th millennia BCE, but because much of that history is recorded. Its modern story can perhaps best be traced back to 1922 when it formally gained independence from Britain and established a monarchy under Fuad I who ruled what was nominally an independent state but, in reality, one that was still under British military occupation with the UK maintaining a significant interest and role within the fledgling state. His son, Farouk I, ascended the throne on 28th April 1936 on Fuad's death however the Egyptian Revolution of 1952 saw him toppled in a coup d'etat by the Free Officers Movement, who quickly abolished the monarchy and aristocracy of Egypt and Sudan, proclaimed a republic and ended British occupation of the country. As part of this, Sudan was also declared independent having previously been governed by Egypt and the United Kingdom, and the new government adopted a non-aligned and anti-imperialist agenda. General Muhammad Naguib, one of the usurpers, became president and Gamal Abdel Nasser was elected into that role in 1956.

Nassar ran a populist government spurred on by nationalization of the Suez Canal Company and his calls for pan-Arab unity which culminated in the short-lived formation of the United Arab Republic with Syria from 1958 to 1961. (That union ended when Syria seceded after the 1961 Syrian coup d'etat, although Egypt continued to be known officially as the United Arab Republic until 1971). On 28th September 1970, Nassar suffered a fatal heart attack and was succeeded by Muhammad Anwar el-Sadat who then served as Egypt's third President until his assassination by fundamentalist army officers on 6th October 1981. Sufi Abu Taleb, the then Speaker of the People's Assembly, assumed the presidential role for eight days before Muhammad Hosni El Sayed Mubarak, a career officer in the Egyptian Air Force, assumed the presidency after a referendum, and renewed his term through further referendums in 1987, 1993, and 1999.

Despite being widely seem as a friend of the West, Mubarak's regime at home was brutal and corrupt and he was forced from office during the Egyptian Revolution of 2011 after 18 days of demonstrations. He was arrested on charges of negligence for failing to halt the killing of peaceful protesters during that uprising and, on 2nd June 2012, an Egyptian court sentenced him to life imprisonment. He faced a retrial after Egypt's Court of Cassation overturned the sentence however, on 9th May 2015, was again sentenced to a prison term which the Court of Cassation again acquitted him from on 2nd March 2017 leading to his eventual release on 24th March 2017. (Suffering ill health, Mubarak died on 25 February 2020, aged 91.)

Folowing Mubark's downfall, the Egyptian military assumed the power to govern with Mohamed Hussein Tantawi, chairman of the Supreme Council of the Armed Forces, becoming de facto interim head of state until a constitutional referendum was held on 19 March 2011. Mohamed Morsi, an Islamist affiliated with the Muslim Brotherhood organisation, was then elected president on 24th June 2012 however he was removed from office in a further coup d'etat on 3rd July 2013 by, amongst others, General Abdel Fattah el-Sisi. The following year Sisi retired from his military career and announced he would run for office in the 2014 presidential election. which saw him win with a 97% landslide victory in the vote.

With a population of 100.4 million in 2019 (representing a significant rise from the estimated 3 million when Napoleon invaded the country in 1798), Egypt is in position 116 out of 189 countries and territories in 2019 when ranked in terms of life expectancy, literacy, access to knowledge and the living standards of a country. According to the most recent data for 2017-18, almost one third of Egypt's people live below the poverty line although, as ever, there are vast discrepancies in wealth distribution. Most of that population lives along the Nile (notably Cairo and Alexandria), within the Delta and near the Suez Canal with the remaining, known as the fellahin, carving out a life on the land in more rural areas where the men, with their long tunics (djellabas), can be seen working the land with age-old implements such as the fas (hoe) and minjal (sickle) and, very occasionally, modern tractors. It is in these rual areas the power of the state is less apparent. Overall, Egypt is a predominantly Sunni Muslim country with an estimated 85-90% of its population identifying as Muslim compared to just 10-15% as Coptic Christians. In 2020, Freedom House ranked Egypt as 'Not Free' in its annual 'Freedom in the World report'. It gave Egypt a 'Political Rights' a score of 7 out of 40 and a 'Civil Liberties' a just score of 14 out of 60, with a total score of 21 out of 100.
---
Egypt Profile: Volunteer in Egypt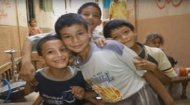 Check out all the latest fee paying and free African volunteer work placements and charity work job opportunities abroad with local projects and volunteering organisations in Egypt.
---
Egypt Profile: Street Children in Egypt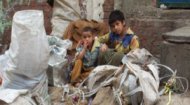 Information at our sister site about the growing crisis of street children in Egypt who leave home to escape poverty and violence.
---
Egypt Profile: Child Sponsor Egypt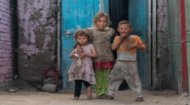 Details of how to sponsor children in Egypt with Egyptian child sponsor organisations, charities, programs and projects.
---
---

The White Desert, named after its chalk formations, is a 116 square mile protectorate located in western Egypt and however its abundance of fossils including sea shells serve as a reminder that the barren desert landscape was once under water.
---

Use this Google Earth satellite map of Egypt in North Africa to explore and take a virtual tour of Egypt and zoom in on places of interest.
---

Read all the latest news and current events from Egypt online in our Egyptian profile news page. Updated daily.
---
---