Chad Profile

Chad is a former French colony in Central Africa that gained its independence in 1960. The country has been marred by decades of civil war as well as invasions until some semblance of peace was finally achieved in 1990, although there have continued to be rebel insurrections to the present day. This conflict has left the economy and infrastructure in tatters, it's ranked the world's most corrupt country, and this already impoverished nation also hosts tens of thousands of refugees from the Central African Republic with 164,000 people displaced inside the country istelf. Chad is a country where even aid agencies fear to work, with aid workers subject to being taken hostage by bandits, and regular suspension of aid work programs occur due to the severe danger to staff there. Despite being three times the size of California, Chad has a population of 16.43 million (2020) and just 300 square miles of irrigated land with just 2.8% of the entire country being arable.

Unlike other African countries, Chad is seen to offer little to the outside world, with its poor transport infrastructure including 33,400km of roads of which just 267km are paved. Chad also is off putting to visitors because of its high cost of living. Child trafficking for sexual and other exploitation remains a major concern about Chad and many children are taken for domestic servitude and other forms of labour both in Chad and to other neighbouring nations with children also brought in from Cameroon and the Central African Republic for the same purposes. Chad is in 187th place out of 189 countries and territories in 2019 when ranked in terms of life expectancy, literacy, access to knowledge and the living standards of a country with close to 66.2% of Chadians living in poverty and only 32% of the population is literate with most of this poverty concentrated in rural areas, where 87% of the country's poor live.

Life is tough in Chad. Most have grown up knowing violence and social instability, only 31.33% are literate dropping to 13.96% for females, those who go to school share their teacher with seventy other pupils, most don't have access to safe water and for the vast majority electricity is unknown (only 10% of the population has reliable electricity and that rate falls to about 1% in rural areas). Life expectancy for a child in Chad is just 54.24 years (2019) and, in the same year, the child mortality rate (under fives) for Chad was 113.8 deaths per 1,000 live births. Forced child labour is common with children having to work to help their family survive. Find out more about Chad in our Chad profile pages below.
---
Chad Profile: Volunteer in Chad



Check out all the latest fee paying and free African volunteer work placements and charity work job opportunities abroad with local projects and volunteering organisations in Chad.
---

Detailing the history of the Republic of Chad, including its independence and wars and a video documentary about the history of Chad.
---
---

Life in Chad explored in video with facts and figures about life expectancy and the quality of life in Chad including details of daily village life for both adults and children.
---
Chad Profile: Children in Chad



Find out more about children's lives in Chad in pictures and video together with facts and figures.
---
---

Images of Chad from its people, to culture and the Chadian countryside set against a backdrop of Chad music and video.
---

Pictures and footage of Lake Chad as it shrinks to a mere fifth of its former size having a significant impact on those who are reliant on the lake for their livelihoods.
---

Take our online trivia quiz and see how much you know about Chad including some interesting facts about the country.
---
---
Chad Profile: N'Djamena Profile



A complete profile of N'djamena, capital city of Chad including N'djamena information, facts, pictures and its limited tourist attractions.
---
Chad Profile: N'Djamena Airport



After you've explored our N'Djamena profile page, make a virtual landing at N'Djamena Airport where you will probably enter Chad for your volunteering experience.
---
---
Chad Profile: Child Sponsor Chad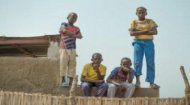 Details of how to sponsor children in Chad with Chadian child sponsor organisations, charities, programs and projects.
---

Use this Google Earth satellite map of Chad in Africa to explore and take a virtual tour of Chad and zoom in on places of interest.
---

Read all the latest and breaking news from Chad here at our Chadian news profile page. Updated daily.
---
---