Chad Images

At just over three times the size of California, Chad is sometimes referred to as the 'Dead Heart of Africa', being landlocked with a largely desert climate. The landscape falls into three main areas; the savannah zone of the south, the arid Sahelian belt in the middle and the desert north where Chad reaches its highest point of 11,204ft at Emi Koussi, an extinct volcanic peak in the Tibesti Mountains. Located south of Libya, Chad stretches south to its southernmost point by 1118 miles. The country shares borders with the Central African Republic, Sudan, Niger, Nigeria and Cameroon with the last three countries also bordering Lake Chad, though the bulk of the lake is in Chad itself. Whilst suffering from many man made dangers with conflict ridden areas particularly in the Islamic leaning north, Chad also suffers from natural hazards including hot, dry, dusty harmattan winds, again in the north, and regular droughts along with locust invasions.

Although semi-arid, Chad has a number of rivers (below), the longest of which is the Chari River which flows for 589 miles from the Central Africa Republic through Chad into Lake Chad for which it provides 90% of its water supply. The Chari is joined by the Logone River near N'Djamena. Chad is well known for its music that reflects the different regions and ethnicity of its peoples with instruments including the 'hu hu', kakaki, maracus and kinde however probably the most frequently used musical instruments are the single-reeded flute associated with the Falani and the lutes and fiddles of the Tibesti region. Other string instruments such as the 'keleli' are used to speak for male performers as it is not considered appropriate in some parts of Chad for men to be singing in front of adult women. This instrument is mostly used around the Tibetsi mountains where Teda music is played. Regardless of the instruments used, most if not all Chad music is set against a background of Tam Tam drumming. You can hear Chad music played spontaneously in churches, millet bars and at village dance nights. The national Anthem of Chad was written in 1960 following independence from France and is called "La Tchadienne" an English translation is as follows:

"People of Chad, arise and get busy! You have won the fight for your land and your rights. Your liberty will be born from your courage. Lift up your eyes, the future belongs to you. Oh, my country, may God choose to guard you. May your neighbours admire your children. Full of joy and peacefully move forward as you sing, Faithful to your ancestors who are watching you. &quot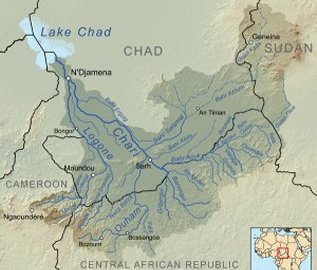 Places of interest to visit in Chad include the city of Abeche with its old markets, cobbled streets and mosques. For the more adventurous the Tibesti Mountains, home of the Toubou tribe, are well worth a visit for their spectacular chasms and crags as is the recently refurbished Zakouma National Park where a wide range of wildlife can be seen from elephants to lions. Those interested in history should pay a visit to the National Museum in N'Djamena itself with its antique collections including one from the 9th Century Sarh culture. More modern history is also be witnessed with many bullet holes still evident in many of the capital's buildings!
---
Chad Images: Volunteer in Chad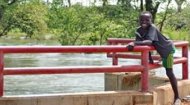 Check out all the latest fee paying and free African volunteer work placements and charity work job opportunities abroad with local projects and volunteering organisations in Chad.
---

Use this Google Earth satellite map of Chad in Africa to explore and take a virtual tour of Chad and zoom in on places of interest.
---
---
Chad Images: Child Sponsor Chad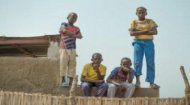 Details of how to sponsor children in Chad with Chadian child sponsor organisations, charities, programs and projects.
---
Chad Images: Chad Country Profile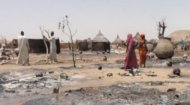 In another of our African country profiles, find out all about Chad in a series of information articles, latest daily news, videos, and images together with volunteering and child sponsorship opportunities.
---
---