Lake Chad

Lake Chad (Chad meaning 'large expanse of water') is located on the southern edge of the Sahara Desert in north central Africa and is situated largely inside the Republic of Chad, however the lake also borders Nigeria, Niger and Cameroon. The lake is the source of water supplies to some twenty million people however, being very shallow, just 34ft at its deepest, it is sensitive to any climate change having dried out numerous times in the last millennium. Today, the Lake Chad basin is once again shrinking at an alarming rate with potentially very serious consequences not only for those who reply upon it for water but also for those engaged in fishing as a livelihood. The northern basin of the lake is now completely dried out whilst the southern basin could no longer be termed a lake, rather being an area of water pools and swamps, but home to lush vegetation.

The 590 mile long Chari River is now the source of 90% of the waters that make up Lake Chad. Previously the Chari had made an important contribution but up until the 1960s the area also benefited from monsoon rains. As these rains became less intense, more people turned to Lake Chad as their sole source of water not just for drinking but also for irrigation. Inevitably, as the population increases, more water is being taken out of the lake then is flowing into it. Today Lake Chad has shrunk to just one-twentieth of its size in 1963 ... and its still shrinking. Some predict that it could disappear within twenty years which would cause disaster for those dependant on it for their very survival.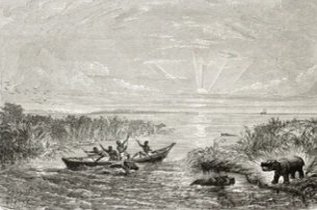 The video explores the work being undertaken to literally save Lake Chad, whilst the Lake Chad Shrinking link below right provides a video demonstrating the effect of this shrinking over past decades and, as that shrinking continues unabated, former fishermen now find that the lake has receded so far from their villages that they have turned to farming as an alternative way of sustenance (fortunately the receded lake bed has proved to be a fertile ground for growing crops such as corn, rice and cowpea; a grain that contain 25% protein, and several vitamins and minerals and grows well in semi-arid areas.)
---
Lake Chad: Chad Country Profile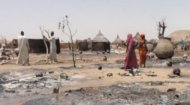 In another of our African country profiles, find out all about Chad in a series of information articles, latest daily news, videos, and images together with volunteering and child sponsorship opportunities.
---
---
Lake Chad: Main Lakes of Africa



Videos, information and profiles about some of the major lakes in Africa where you may be volunteering.
---
---