Zambia Images

The Republic of Zambia, with its population of 17.86 million (2019), is situated in southern Africa bordered by the Democratic Republic of Congo to its north, Tanzania to its north-east, Malawi to its east, and Mozambique, Zimbabwe, Botswana and Namibia to its south with Angola to its west. It is about the size of Switzerland, Belgium, the Netherlands and France combined. Zambia has some spectacular scenery, including the Victoria Falls along the Zambezi River (the country's lowest point and after which the country is named ), the Bangweulu Swamps which cover an area of 3,800 square miles and the Luangwa river valley. It's a country mainly comprising of plateaus around 3,000ft - 4500 ft above sea level although some of the country is much higher reaching 5,900ft in height, exemplified by the Muchinga Mountains in the north-east of Zambia.

Popular images of Zambia include its many lakes either deep in the country itself or near its borders. These include Bangweulu, Mweru, and Tanganyika in the north of the country as well as Lake Kariba in the south, an artificial lake created by the building of the Kariba dam which supplies hydro-electricity to Zimbabwe as well as Zambia. Lake Kariba is Africa's largest man-made lake and the world's second largest. It is a popular tourist destination being described as Zambia's 'Riviera.'

For the historian a visit to the Nsaly caves is well worth a visit where there are 12,000 year old rock paintings as are other rock paintings at Zawi Hill and Rocklands Farm. Only about 7% of the land in Zambia is arable however the tropical climate of the country provides for a diverse range of crops from tobacco, maize, cotton, rice and wheat to citrus fruits, pineapples, bananas, grapes, avocados and mangoes as well as tea, coffee and sugar. If visiting Zambia places to visit include the Victoria Falls, Lake Tanganiyka, The Maramba Cultural Museum with its exhibitions of Zambian arts and crafts and the Lusaka National Museum which explores the history of Zambia through the ages. The video (below) shows some of the most popular images of Zambia and gives a good look and feel of the country.
---
Zambia Images: Volunteer in Zambia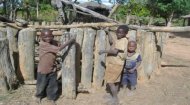 Check out all the latest fee paying and free African volunteer work placements and charity work job opportunities abroad with local projects and volunteering organisations in Zambia.
---

Use this Google Earth satellite map of Zambia to explore and take a virtual tour of Zambia in Africa and zoom in on places of interest.
---
---
Zambia Images: Sponsor a Child in Zambia



Details of how to sponsor children in Zambia with Zambia child sponsor organisations, charities, programs and projects.
---
Zambia Images: Zambia Country Profile



In another of our African country profiles, find out all about Zambia in a series of information articles, latest daily news, videos, and images together with volunteering and child sponsorship opportunities.
---
---