Zambia History

Little is known about the early history of the country we now call Zambia. Around two thousand years ago the area was occupied by hunters and gatherers who lived a nomadic lifestyle. Four hundred years later the Bantu moved into the area establishing small villages and farms and, by the 16th century, Zambia was home to a number of kingdoms including Lunda, Bemba and Chewa. By the early 19th Century Shaka, the Zulu leader, was making conquests around the south of Africa, expanding his empire. One displaced tribe fled north and in turn founded the Kololo Kingdom in what had been up until then the Lozi Kingdom of Upper Zambezi. Another tribe, the Ngoni, similarly fled Shaka's territorial ambitions and settled in east Zambia. By this time Europeans were active around Africa however, being landlocked and far from the ocean, Zambia did not have contact with them until the 18th Century.

The most noted European visit of these was when the explorer David Livingstone arrived in the area in 1851. He set up up a mission in the Kololo Kingdom, however it eventually failed after most of the missionaries died and his aim of replacing the slave trade with a cotton trade had a similar fate as no practicable trade route could be established through Mozambique. As this tax could only be paid in cash, many men were forced to work effectively as slave labourers in nearby South Africa or Zimbabwe to pay their enforced dues. Attempts at rebellion were brutally put down. By the end of the 19th Century, modern day Zambia comprised North-Western Rhodesia (mainly the old Kingdom of Lozi which had been retaken from the Kololo in the 1860s) and North-Eastern Rhodesia. They were administered as separate territories until 1911 when they amalgamated to form Northern Rhodesia. By 1923 the British Government had not renewed the British South African Company's charter to work the area (having decided that 'company rule' was no longer appropriate) and it became a British crown protectorate and two years later a legislature was formed.

Within the decade substantial copper deposits had been found making Zambia the world's foremost copper producer by the outbreak of World War II with tens of thousands employed in the industry (above), however the advent of trade unionism started the process of antipathy and more latterly hostility to British rule. The whites in Northern Rhodesia (present day Zambia), Southern Rhodesia (present day Zimbabwe) and Nyasaland (present day Malawi) concluded that the 'blacks' would be easier to manage if the three colonies merged. Despite efforts through-out the 1940s by the whites for unification, a process vigorously opposed by the black majority, the government in London accepted a compromise in 1953 by creating the Federation of Rhodesia and Nyasaland. This compromise entailed each of the three colonies having its own government but with a federal government overseeing foreign affairs in addition to matters that affected two or more of the colonies within the federation. It would be fair to state that this federal government was not particularly interested in the well-bring of its native citizens rather how much money could be exploited. For example by the late 1950s white workers were earning on average 2,071UK a year whilst black workers earned just 203UK a year.

By 1960 pressure for the end of colonial rule was widespread across Africa. In that year Kenneth David Kaunda, a close friend of the colonial governor, established the United National Independence Party which eventually forced the dissolution of the federation on 31st December 1963. The following month saw Kuanda elected as Prime Minister of Northern Rhodesia, an event which led to the country's full independence from the UK on 24th October 1964 as the Republic of Zambia, named after the Zambezi river that flows through the country. Like so many other emerging African nations, Kaunda was intolerant of opposition, eventually making Zambia a one party state by 1972 under the Chona Commssion. The Zambian economy, in decline after years of poor management, in particular the nationalisation of the copper industry, led to increasing unrest. In 1991 Kaunda was forced to call multi party elections with Frederick Chiluba becoming president with 81% of the presidential election vote. His party, the Movement for Multi-party Democracy (MMD), also took 125 out of the available 150 seats. To his credit Kaunda was only the second of Africa's presidents to step down voluntarily having lost office.

Chiluba was re-elected in 1996, however with growing disillusionment of his rule mired with allegations of corruption and incompetence in dealing with the floods and drought that affected two million Zambians in 2001, the MDC split with many of its members breaking away to form the Forum for Democracy and Development. Unable to seek a third term in office, Chiluba was succeeded by former Vice President Levy Mwanawasa who went onto win a second term in 2006. However he died in office within two years and was succeeded by his vice-president Rupiah Banda who narrowly went on to win his own mandate later that year. He was defeated by opposition leader Michael Sata of the Patriotic Front in the September 2011 presidential election who died in London on 28th October 2014, being succeeded by his Vice-President Guy Lindsay Scott until a presidential by-election could be held on 20th January 2015. Scott was the first white president of Zambia and was succeeded by Edgar Chagwa Lungu, the country's former Minister of Justice and Minister of Defence, who served as the sixth president of Zambia since 25 January 2015 until he lost the 2021 election to long-time opposition leader Hakainde Hichilema (below).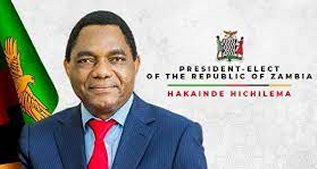 Today Zambia is a relatively stable multi-party democracy although serious challenges face the country including widespread poverty, a high prevalence of AIDS/HIV, poor infrastructure with an under developed health care system, and an over reliance on copper to drive the economy. The country is also at risk of drought and floods. This video is from the period of history when President Kuanda sought allies with the Soviet Union and China. A time when anything seemed possible, even getting Zambian astronauts to the moon!
---
Zambia History: Volunteer in Zambia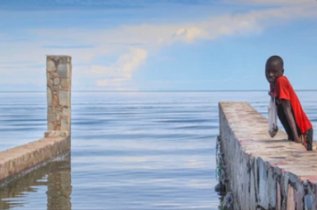 Check out all the latest fee paying and free African volunteer work placements and charity work job opportunities abroad with local projects and volunteering organisations in Zambia.
---
Zambia History: Life in Zambia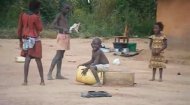 A video documentary together with facts, figures and pictures about daily life in Zambia today where you may be volunteering.
---
---
Zambia History: Sponsor a Child in Zambia



Details of how to sponsor children in Zambia with Zambia child sponsor organisations, charities, programs and projects.
---
Zambia History: Zambia Profile



In another of our African country profiles, find out all about Zambia in a series of information articles, latest daily news, videos, and images together with volunteering and child sponsorship opportunities.
---
---