Rwanda Profile

Rwanda, with its population of 12.95 million (2020), is situated just south of the Equator and bordered by Uganda to its north, Tanzania to its east, Burundi to its south and the Democratic Republic of the Congo to its west. A former German colony, Rwanda became under the control of Belgium after the First World War and became independent in 1962. As with other emerging independent African nations, politics was divided into tribal factions and, following the assassination of President Habyarimana in 1994, ongoing ethnic tensions between the Hutu and Tutsi population erupted in a mass slaughter that led to the killing of an estimated half to one million Rwandans, the equivalent of one in five of the then entire population including 300,000 of its own children.

At the time 80% of all children had lost at least one family member. Tens of thousands fled the country for safety and those who did return, did so to broken and distrustful communities where just a few years before neighbours had been killing neighbours. It is difficult to contemplate how any country could sink so far into genocide that over three million of its own children were left orphaned or vulnerable. Despite this bloodbath, Rwanda is now respected as one of the most stable African nations. Yet the mass genocide of the early 1990s has deeply scarred it's soul with one survey finding that a troubling 60% of children did not care if they ever grew up because of their past.

The government of Rwanda is outwardly committed to a peaceful existence and is working with other countries and organisations to build a better future being one of the few nations that made significant progress towards its Millennium Goals for 2015, although the infant mortality rate remained higher than its target as did young people's knowledge of AIDS. Extreme poverty also declined, but not to its target level and while today young children are generally receiving sufficient food on average, the extent of stunting suggests that it is not the right food. Despite this, malnutrition rates are falling.

Rwanda is in 160th place out of 189 countries and territories in 2019 when ranked in terms of life expectancy, literacy, access to knowledge and the living standards of a country with a life expectancy of 69.02 years (2019). Poverty in Rwanda is still significant with around 39% of the population living below the poverty line. One contributing factor is that Rwanda suffers from a poor education system where only 68% of first-graders end up completing all six years of primary education. About 80% of Rwandans are dependent on the land for their living although, as farms are split as they are handed down through the generations, farming is becoming increasingly fragmented and around one hundred thousand children work the land to achieve some form of living. For more about Rwanda check out our Rwanda profile pages below.
---
Rwanda Profile: Volunteer in Rwanda



Check out all the latest fee paying and free African volunteer work placements and charity work job opportunities abroad with local projects and volunteering organisations in Rwanda.
---
Rwanda Profile: Rwanda History



A brief history of Rwanda in video and pictures from independence, the Rwanda genocide of 1994 and life in Rwanda today.
---
Rwanda Profile: Rwanda Genocide



Learn about the Rwanda genocide of 1994 as the world watched without intervening together with picture and video footage.
---
---
Rwanda Profile: Life In Rwanda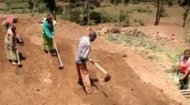 Facts, figures and pictures of daily village life in rural Rwanda where 65% of the population spend their life in poverty.
---
Rwanda Profile: Rwanda Children



About life for children in Rwanda in facts, information and video where more than half live in poverty in rural areas together with details of projects and programs to support children in the country.
---
---

Images of land-locked Rwanda in video and pictures exploring the countryside and places of interest.
---

Find out all about Lake Kivu, one of the great African lakes that lies on the border between the Democratic Republic of the Congo and Rwanda.
---

Take our online trivia quiz and see how much you know about Rwanda including some interesting facts about the country.
---
---
Rwanda Profile: Rwanda Gorilla



A video documentary about gorilla tracking and preservation in Rwanda where the gorilla safari and trekking is gaining in popularity.
---
Rwanda Profile: Kigali Profile



A complete profile of Kigali, capital city of Rwanda including a history, tourist attractions and video.
---
Rwanda Profile: Kigali Airport



Make a virtual landing at Kigali International Airport in the capital city of Rwanda in this video where you are likely to enter the country for your volunteer work in Rwanda.
---
---
Rwanda Profile: Child Sponsor Rwanda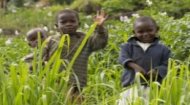 Details of how to sponsor children in Rwanda with Rwandan child sponsor organisations, charities, programs and projects.
---

Use this Google Earth satellite map of Rwanda in Africa to explore and take a virtual tour of Rwanda and zoom in on places of interest.
---

Read all the latest and breaking news from Rwanda here at our Rwandan news profile page. Updated daily.
---
---