Mbabane City Profile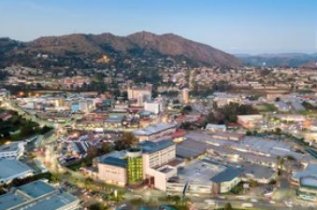 Mbabane, with its population of around 95,000, is the capital city of Eswatini and named after Chief Mbabane Kunene, the area's leader in the 1750s when first visited by European explorers. Located on the Mbabane River, Mbabane (pronounced "M-buh-ban") is nestled within the Dlangeni Hills and came into its own when the British assumed control of the then Swaziland after the Anglo-Boer War (1899-1902) with Mbabane becoming the colonial capital of the new Protectorate of Swaziland in 1902, relocating the area's administrative headquarters there from Bremersdorp (now called Manzini).

Electricity arrived in the town in 1920, albeit initially only to the British Commissioner's official residence, soon to be followed by other facilities befitting an English gentleman including a golf course, tennis courts, cricket pitch and theatre. By the 1930s the wider town also had electricity coverage as well as running water, telephone connections and a hospital but no black residents as they were not allowed to live in the town itself and had to reside in nearby rural districts instead. It was this lack of any black population that prevented Mbabane from developing in line with other African conurbations however a railway link was established in 1964 from the town to Mozambique to export iron ore extracted from the Ngwenya iron-ore mine in the Highveld region, leading to an increase in population which gathered pace following independence in 1968 with the construction of many new buildings including the Swazi Plaza and, later, the Mbabane Mall.

As Mbabane has little to offer itself, tourists tend to use it as a base for exploring the wider country of Eswatini, formerly known as Swaziland. If visiting Mbabane check out the Indingilizi Gallery with its art and craftwork, the Sibebe Rock a couple of miles north-east of the town, factories that make traditional hand-made Swazi candles and spend an evening at Jazz Friends a popular 'hot spot' to relax with African music. The 18-hole golf course on the main Mbabane road will appeal to golfers being described as having "one of the most scenic locations found anywhere in the world" as you'd expect as it was the initial plaything of the British Commissioner.

Further afield, visit Mlilwane Wildlife Sanctuary (above), created in the 1950s, on the old road to Manzini where antelopes, zebras, giraffes, warthogs as well as crocodiles and hippos can be found. About 13 miles from Mbabane you'll find the royal village of Lobamba, Eswatini's traditional and legislative capital and the seat of Parliament. Just beyond this very traditional village with its beehive grass huts you will find the Swazi National Museum and the Embo State palace as well as the Somhlolo National Stadium.
---
Mbabane Profile: Volunteer in Eswatini (Swaziland)



Check out all the latest fee paying and free African volunteer work placements and charity work job opportunities abroad with local projects and volunteering organisations in Eswatini (Swaziland).
---
Mbabane Profile: Mbabane City Map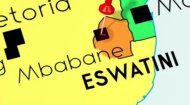 A satellite map of Mbabane, capital city of Eswatini (Swaziland), which you can use to zoom in to explore each street of the city and its major tourist attractions.
---
---
Mbabane Profile: Sponsor Children in Eswatini (Swaziland)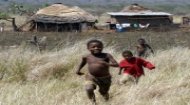 Details of how to sponsor children in Eswatini with Eswatini child sponsor organisations, charities, programs and projects.
---
Mbabane Profile: Eswatini (Swaziland) Country Profile



In another of our African country profiles, find out all about Eswatini (Swaziland) in a series of information articles, latest daily news, videos, and images together with volunteering and child sponsorship opportunities.
---
---