Lusaka Airport

Lusaka International Airport, opened in 1967, is located about twenty minutes drive from Zambia's capital city Lusaka and serves as both a military and public airport. It was renamed Kenneth Kaunda International Airport in 2011 after the country's first President. A number of airlines operate from there including, amongst others, Air Tanzania, Emirates, Ethiopian Airlines, Kenya Airways, Malawian Airlines, Qatar Airways and Proflight Zambia. A further international airport, Simon Mwansa Kapwepwe, is due to be completed having been delayed due to the COVID-19 situation. This airport, curently known as 'The Copperbelt International', is located at Ndola, the second largest city in Zambia, and close to the border with the Democratic Republic of Congo.

Lusaka airport served around a million passengers every year until 2021. however the opening of a new terminal that year, designed and built by the Chinese Jiangxi International comapny, has increased that capacity to around six million with a new two-story terminal building, 22 check-in counters, 12 border channels and six security check counters; a presidential terminal, a new air traffic control building and tower and a new hotel. Unlike many other African airports, the staff are polite and friendly and there's no need to 'share' money to facilitate the visa processes.
---
Lusaka Airport: Volunteer in Zambia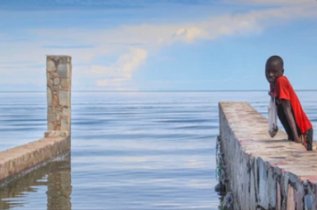 Check out all the latest fee paying and free African volunteer work placements and charity work job opportunities abroad with local projects and volunteering organisations in Zambia.
---
Lusaka Airport: Lusaka Profile



All about Lusaka, one of Africa's fastest growing cities, together with images and video.
---
---
Lusaka Airport: Sponsor a Child in Zambia



Details of how to sponsor children in Zambia with Zambia child sponsor organisations, charities, programs and projects.
---
Lusaka Airport: Zambia Country Profile



In another of our African country profiles, find out all about Zambia in a series of information articles, latest daily news, videos, and images together with volunteering and child sponsorship opportunities.
---
---