Life in Senegal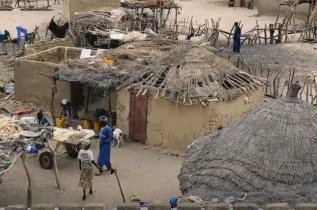 Senegal is widely considered a safe, stable democracy however it is affected by high levels of poverty (46.7% nationally but higher in rural areas) and unemployment 22.60% (2020). Senegal is in 168th out of 189th place out of 189 countries and territories in 2019 based upon the life expectancy, literacy, access to knowledge and living standards of a country putting it in the low human development category. Most of the 58% of the population who live in rural areas are engaged in agriculture (75%) although only about 5% of the land is irrigated. Senegal faces many challenges, not least poor rural access to education (particularly for girls) and healthcare, coupled with food shortages and increasing desertification in the north of the country where water stress is becoming a serious issue.

Many villages in Senegal are home to around a thousand people. Traditional village homes (above) are made from mud bricks with wooden roofs entwined with millet stalks and are often decorated with numerous family photographs with various animals from goats, sheep, chickens and cows roaming freely around the family compound. Only 38% of rural homes have access to electricity, compared to 88% in urban areas although rising across the country in general. Some villages will have their own Mosque in a country that is 92% Muslim (with prayers held five times a day) and most villages will have a well from which water is collected and communal washing facilities in a freestanding, concrete building with two tin sides.

63% of the rural population having access to safe water supplies. For others, it's a matter of walking to waterholes (below) and collecting a daily supply from there or taking a donkey and cart if further afield. The lack of fresh, safe water coupled with poor sanitation in Senegal contributes to the high risk of waterborne diseases such as bacterial and protozoal diarrhoea, hepatitis A and typhoid fever as well as schistosomiasis that make children in Senegal more likely to fall ill and less likely to attend school and get an education and consequently have better life outcomes. Many in rural communities rely on boreholes however many of these have been overexploited and in some areas, such as Mont Rolland, villagers have to drill down over 260 feet to reach water supplies.

The water situation in Senegal deteriorates the further north you go where the Sahara desert is slowly encroaching on former arable lands. Part of the cause of this is deforestation, poor farming methods, coupled with climate change, but also the four-fold increase in the country's population since independence in 1960. This rapid population expansion has led to a rise in the demand for wood and charcoal and more of the previously forested land in now required to cultivate crops to feed the population. As a result whilst there were more than 250 trees per hectare prior to 1960, today there are less than twenty. In fact, 60% of Senegal's forests have disappeared since 1970 mainly for fire wood.

While the Senegal government is aware of the issue and has developed programs to promote water supply including building dams on the Senegal River to ensure an all round supply to those living in its basin and other innovative projects, it's the north of the country where the battle is probably lost and people have simply abandoned the land and moved south in search of secure water supplies. One such area is Ferlo which is now so arid that few can live there save for a few trees and goats. Others have left Senegal altogether by getting illegally into Europe through the Spanish enclaves in Morocco of Ceuta and Mellila (se chart below for these migrant detinations). But, as one would be migrant reflected "The smugglers at the Spanish-Moroccan border who we trusted ripped us off and abandoned us to our fate. So, the only choice we had was to get in, by force, or go back home and become the butt of jokes."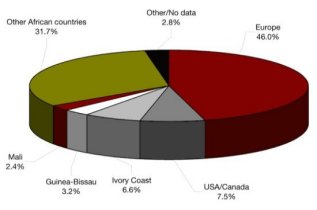 Senegal has the highest population of polygamous marriages in West Africa with most men having more than one wife. In village areas the family, often comprising of ten people, will live within a compound with the male spending time with each wife and children and household tasks being rotated amongst the women. Their day starts with a breakfast of baguettes of bread, followed by a wash in a freestanding, communal concrete building with two tin sides. By mid-morning children go off to school, whilst many girls stay at home helping with chores, and older lads drive carts led by donkeys to collect water from nearby wells.

Fathers either work on the land in their millet and sorghum fields or travel to urban areas or even further afield in Europe returning only at weekends or less frequently depending on distance. After completing their household tasks the women of the family will often take food to family members working in the fields before preparing items that can be sold at market such as cooking ingredients. The village day ends with a meal of a little meat on lashings of rice around 9-10pm, then sleep, and ready for the next day. The video (below) above explores daily lie in Senegal in more detail and our Senegal culture article explores life and traditions there in more detail.
---
Life in Senegal: Volunteer in Senegal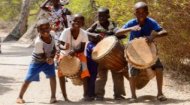 Check out all the latest fee paying and free African volunteer work placements and charity work job opportunities abroad with local projects and volunteering organisations in Senegal.
---
Life in Senegal: Senegal Culture



A brief review of Senegal culture and traditions in pictures and video including Senegal's ethnic groups, religions and festivals.
---
Life in Senegal: Children in Senegal



Find out more about children's lives in Senegal in pictures and video together with facts and figures.
---
---
Life in Senegal: Child Sponsor Senegal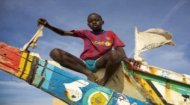 Details of how to sponsor children in Senegal with Senegal child sponsor organisations, charities, programs and projects.
---
Life in Senegal: Senegal Country Profile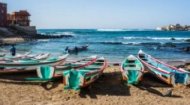 Find out all about Senegal in a series of information articles, latest daily news, videos, and images together with volunteering and child sponsorship opportunities.
---
---