Lagos Profile

Until 1991 Lagos was the capital of Nigeria, a position it had held since 1914 then the purpose built city of Abuja was established and the capital transferred. Despite losing its capital status, Lagos remains the largest and most prosperous city in Nigeria with a population of around 15.3 million (2022), making it the most second most populous city in Africa only pipped by Kinshasa in the DRC by a few thousand, and is located on islands on the Lagos Lagoon on the Bight of Benin in the Gulf of Guinea separated by creeks. Historically, Lagos was named by the Portuguese (Lagos is Portuguese for lake) after the explorer Rui de Sequeria visited the area in 1472. By that time Lagos was already a slave trade centre ruled by Yoruba Kings called the Oba. When the new king Oba Akitoye ascended the throne in 1841 he was overthrown by Lagos traders opposed to his attempt to ban slavery, and his brother, Oba Kosoko was installed as Oba.

The British, who were setting down place-markers in the area, supported Akitoye's restoration in 1851 and, a decade later, annexed Lagos as a British colony. Slavery was then abolished and the remainder of Nigeria was taken as a British colony in 1887 as part of the scramble for Africa. In 1914, when Southern and northern Nigeria were amalgamated, Lagos was declared the capital of the Protectorate of Nigeria however its condition rapidly deteriorated as its population grew becoming over congested and slum ridden with narrow streets, poor housing, and overcrowding. Lagos now sprawls over what were four main 'islands'; Lagos, Iddo, Ikoyi, and Victoria although urban development has meant they are no longer really islands due to land reclamation with many bridges interconnecting the city over the low lying area's profile with the highest point on Lagos Island being only 22 feet above sea level. Today Lagos remains the country's commercial and finance centre while Abjuba is its administrative hub.

For visitors Lagos has a number of attractions worth visiting from the Black Heritage Museum that explores 300 years of the slave trade through Lagos and the Lekki Conservation Centre some twenty minutes from Lagos with its raised walkway through a jungle environment from where many species of wild animals can be observed. Also worth a look are the Didi Museum, the Nike Art Gallery and the National Theatre of Arts & Culture whilst those seeking to relax will enjoy time on the beaches at Eleko, Lekki and Tarkwa.
---
Lagos Profile: Volunteer in Nigeria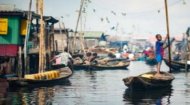 Check out all the latest fee paying and free African volunteer work placements and charity work job opportunities abroad with local projects and volunteering organisations in Nigeria.
---

Make a virtual landing at Lagos International Airport, Murtala Mohammed, named after the fourth military ruler of Nigeria in this video where many will enter Nigeria for their vounteering experience.
---
---
Lagos Profile: Child Sponsor Nigeria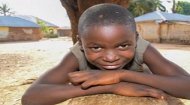 Details of how to sponsor children in Nigeria with Nigerian child sponsor organisations, charities, programs and projects.
---
Lagos Profile: Nigeria Country Profile



In another of our African country profiles, find out all about Nigeria in a series of information articles, latest daily news, videos, and images together with volunteering and child sponsorship opportunities.
---
---