Lagos Airport

Murtala Mohammed International Airport opened on 15th March 1979 and was to be known as Lagos International Airport, however its name was changed mid way through construction in honour of General Murtala Ramat Mohammed, a former military head of state, who was assassinated in 1976 during an abortive coup attempt. The airport caters for over 7.3 million passengers a year (2020) and is one of the largest airports in Africa. Despite recently opening a new terminal, the airport, like most of Nigeria, suffers from regular power outages leading some to describe it as 'a death trap'. Recent reports noted that passengers were stranded for 4-6 hours after power failures at the airport.

Located around thirty minutes drive from the centre of Lagos, the airport has two terminals some one mile apat and passengers are warned to only use airport taxis to shuttle between them as other drivers see tourists and charge them exorbitant fees. Again, opportunist porters can be found lurking around the terminal entrances who may just make off with your luggage and, once inside, the facilities are somewhat limited with a couple of bars and restaurants and a poorly stocked duty free shop. Those travelling in the early morning or late night arrivals can stay at the Legend Hotel Lagos Airport which is just 1000 yards away from the airport and offers offers 5-star accommodation with all the facilities you would expect. Murtala Muhammed International Airport is serviced by dozens of carriers including Air France, British Airways, Egyptair, Emirates, Delta Airlines, KLM, kenya Airways, Qatar Airways, Turkish Airline, Virgin Atlantic and, of course, United Nigeria Airlines. In the video (below) make a virtual landing at Lagos airport and see Nigeria from the air as you approach the runway.
---
Lagos Airport: Volunteer in Nigeria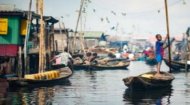 Check out all the latest fee paying and free African volunteer work placements and charity work job opportunities abroad with local projects and volunteering organisations in Nigeria.
---

Exploring life inside the city of Lagos in Nigeria today, the former capital city of Nigeria, together with a video documentary about Lagos.
---
---
Lagos Airport: Child Sponsor Nigeria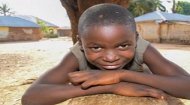 Details of how to sponsor children in Nigeria with Nigerian child sponsor organisations, charities, programs and projects.
---
Lagos Airport: Nigeria Country Profile



In another of our African country profiles, find out all about Nigeria in a series of information articles, latest daily news, videos, and images together with volunteering and child sponsorship opportunities.
---
---