Gambia Profile

The Gambia gained its independence from the United Kingdom in 1965 and became the Republic of the Gambia in 1970. Following a coup attempt in 1981, Gambia, which is surrounded by Senegal, formed a treaty of federation with its surrounding nation in order to ensure its security. This federation known as Senegambia dissolved in 1989 when Gambia declined moves towards further union, believing it was at risk of losing its own identity. A further military coup in 1994 installed Yahya A. J. J. Jammeh as president and he was re-elected as president in 2001, 2006 and 2011, having stated in July 2010, "Whether you like it or not, no coup will end my government, no elections can end my government. By God's grace I will rule this country as long as I wish and choose someone to replace me." He has also commented "Come 2011, whether you vote for me or not, I will win." He did with 71.54% of the vote and two years he vowed to stay in power for "a billion years" if God wills. God apparently didn't will it as Jemmeh lost the election in 2016 to Adama Barrow who won with 43.34% of the vote. Jemmeh ceded power however later reneged on that decision and Barrow was forced to flee to neighbouring Senegal where he was inaugurated at the Gambian embassy there on 19 January 2017 before Jammeh was forced to flee Gambia and go into exile leading to Barrow's return to the country on 26th January 2017 where he has been the incumbent president since.

The HDI (Human Development Index) is measured by the UNESCO Institute for Statistics (UIS) and the World Bank and is based upon the life expectancy, literacy, access to knowledge and living standards of a country. Gambia is in 172nd place out of 189 countries and territories in 2019 when ranked in terms of life expectancy, literacy, access to knowledge and the living standards of a country putting it in the low human development category. Despite oil discoveries off its coast, Gambia is a poor country where the poverty rate remains at 48% while food insecurity has risen from 5% to 8% over the past few years as a result of weak food production systems and the effects of successive shocks such as drought and floods.

Only around one sixth of Gambia's land is arable and poor soil quality effectively means its only main crop is peanuts and around 75% of Gambia's population depends on this crop together with rice, millet, sorghum, corn, sesame, cassava and palm kernels for subsistence consumption. Farmers also rear cattle sheep and goats for their livelihood. A nation depending on one main export is always vulnerable to international price fluctuations and as such, Gambia is heavily reliant on international aid. Unemployment and under employment rates in Gambia are also very high. The population of Gambia is 2.348 million (2019) with a life expectancy of around 61.74 years (2018). Access to education is also a major issue for children in the Gambia, for whilst secondary education is free, most secondary schools will not accept children who have not had a primary education, and that is not free and beyond the means of many Gambian families. This is reflected in its literacy rate, where the overall is around 55% however it is significantly lower for women than for men. The video (below) gives a good look and feel of Gambia.
---
Gambia Profile: Volunteer in Gambia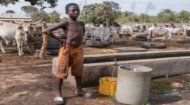 Check out all the latest fee paying and free African volunteer work placements and charity work job opportunities abroad with local projects and volunteering organisations in Gambia.
---
Gambia Profile: Banjul Profile



A complete profile of Banjul, capital city of the Gambia, including Banjul information, facts, pictures and tourist attractions.
---
---
Gambia Profile: Child Sponsor Gambia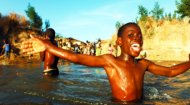 Details of how to sponsor children in Gambia with Gambian child sponsor organisations, charities, programs and projects.
---

Use this Google Earth satellite map of Gambia to explore and take a virtual tour of Gambia in Africa and zoom in on places of interest.
---

Read all the latest and breaking news from Gambia together with current events at our Gambia profile news portal.
---
---