Banjul Profile

Modern day Banjul is on St Mary's (Banjul) Island in the estuary of the Gambia River and first became known to Europeans in 1455 when Portuguese explorers Antoniotti Usodimare and Luiz de Cadamosto navigated the Gambia River. Meeting resistance from the locals they temporarily withdrew and later sold trading rights on the Gambia River to the British in 1588 however others also had eyes on developing outposts there including the short-lived Duchy of Courland and Semigallia, part of the the Grand Duchy of Lithuania, who established a fort on nearby St. Andrew's Island and took control of parts of St. Mary's Island in 1651.

In 1664 the embryonic colony was ceded to England. The French and British continued to wrangle over trade in the area until it was recognised as a British interest as part of the 1783 Treaty of Paris. The British developed Banjul (then named from 1816 as Bathurst after the 3rd Earl of Bathurst having been known locally as Banjulo) as an alternative base to James Island, 18 miles upstream, as it provided a better location from which to enforce the abolition of the slave trade still practised by the French, Spanish, Portuguese and Americans as well as securing other British interests in the area. St Mary's Island itself was named after the Portuguese for Santa Maria, its original designation by early Portuguese explorers.

In 1821 Bathurst (Bangul) was placed under the administration of the British Governor of Sierra Leone however in 1843 the Gambia became a British Crown colony with its own governor except for a brief period (1866-1888) when it was again placed under the control of Sierra Leone. The colony was granted full internal self-governance in 1963 becoming independent in 1965 with Bathurst reverting to its pre-colonial name in 1973 from the Mandinka word for "rope fibre", Bang julo ~ with rope making being an early activity of its indigenous population. Today Banjul has a population of around 451,000 and operates as Gambia's seat of government and administrative centre. Places of interest include the African Heritage Centre, MacCarthy Square, Albert Market and the Gambia National Museum.
---
Banjul Profile: Volunteer in Gambia



Check out all the latest fee paying and free African volunteer work placements and charity work job opportunities abroad with local projects and volunteering organisations in Gambia.
---
Banjul Profile: Banjul City Map



A satellite map of Banjul, capital city of Gambia, which you can use to zoom in to explore each street of the city and its major tourist attractions.
---
---
Banjul Profile: Child Sponsor Gambia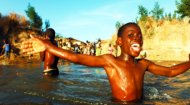 Details of how to sponsor children in Gambia with Gambian child sponsor organisations, charities, programs and projects.
---

In another of our African country profiles, find out all about Gambia in a series of information articles, latest daily news, videos, and images together with volunteering and child sponsorship opportunities.
---
---