Child Sponsor Gambia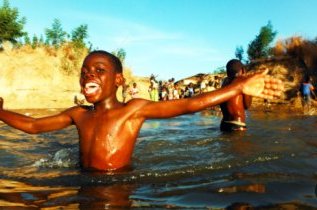 The Gambia is one of Africa's smallest countries, completely encircled by Senegal apart from its coastline, and is one of the poorest countries on the continent with poorly developed health and education systems. The Gambia is in 172nd place out of 189 countries and territories in 2019 when ranked in terms of life expectancy, literacy, access to knowledge and the living standards of a country. It has a small population of just 2.417 million (2020) with a life expectancy of around 62.05 years (2019), over half of whom (rising to 68% in rural areas) live in poverty coping on less than £400 per year given most are involved in agriculture and only one sixth of its landmass is arable with poor soil making it only suitable for its one main produce, peanuts.

As such, the country is heavily dependent of foreign aid and hopes that it can rebalance its economy with oil have, to date, proved fruitless as none has been struck. Matters have been compounded of late with drought in the area together with flash flooding making access to safe water increasingly difficult. Access to education is also a major issue for children in the Gambia, for whilst secondary education is free, most secondary schools will not accept children who have not had a primary education, and that is not free and beyond the means of many Gambian families.

This is reflected in its literacy rate, standing at 63.9% for males and but just 47.6% for females not least because only 39% of children in the Gambia go to secondary school. Child sponsor programs in the Gambia focus on installing wells and water pumps, access to health and education, including the building and kitting out of schools and providing poorer children with books and uniforms, providing mosquito nets and vaccinating children from infectious diseases such as malaria. Other work includes caring for the 72,000 child orphans out of a total child population of 811,000 in the country. You can help when your sponsor a child in the Gambia.
---
Child Sponsor Gambia: The Lighthouse Project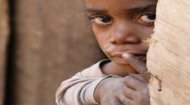 In a shameless bit of self-promotion, read this novel by the African Volunteer Network team about volunteering in Uganda. "Well worth the read especially for those working with non-profits abroad. In fact, it should be required reading."
---
Child Sponsor Gambia: SOS Children's Villages



With SOS Children, you can help orphaned and abandoned children when you sponsor a child in Gambia.
---
Child Sponsor Gambia: H.E.L.P.I.N.G.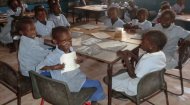 Sponsor a child and help pay for their food and education in the Gambia's poorest areas.
---
---
Child Sponsor Gambia: Sponsor a Gambian Child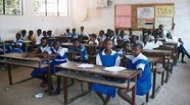 Your sponsorship will help fund the education of one of the most needy children in Brikama, Gambia.
---
Child Sponsor Gambia: Lisa Kent Trust



You will be sent pictures drawn by the child and annual school reports when the child is older.
---

When you sponsor a child with GETS
you secure their future by delivering
a good education.
---
---

Establish a personal relationship with an exchange of letters, drawings and photographs.
---
Child Sponsor Gambia: Volunteer in Gambia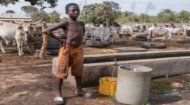 As well as sponsoring a child why not explore volunteering opportunities in Gambia?
---
Child Sponsor Gambia: Gambia Country Profile



In another of our African country profiles, find out all about Gambia in a series of information articles, latest daily news, videos, and images together with volunteering and child sponsorship opportunities.
---
---