African Independence dates

This is a table of each African nation detailing when independence was achieved and who from. It can be used in conjunction with our colonial map of Africa here. The animated graphic above shows how most countries gained their independence in the 1960s, while Ethiopia was never a colony and South Africa had been created as a country under the South Africa Act of 1909 that consolidated the Cape Colony, Natal, Transvaal, and Orange Free State into one nation and an independent Dominion of the British Empire.

Egypt, never an actual colony, had been occupied by British forces since the Anglo-Egyptian War, and was declared a protectorate when the Ottoman Empire joined the First World War on the side of the Central Powers. This protectorate status ended when the British government issued the Unilateral Declaration of Egyptian Independence on 28 February 1922 and Sultan Fuad I declared himself King of Egypt. (Typically, the British didn't actualy leave and that arrangement was formalised by the Anglo-Egyptian treaty of 1936, which granted Britain the right to station troops in Egypt in order to defend the Suez Canal, its important link with the then Indian Empire.)

For full detailed information about the timing and circumstances of each African country's independence, download the file below.

Country

Independence Dates

From

Algeria
5th July 1962
France
Angola
11th November 1975
Portugal
Benin
1st August 1960
France
Botswana
30th September 1966
Great Britain
Burkina Faso
5th August 1960
France
Burundi
1st July 1962
Belgium
Cameroon
1st January 1960
1st October 1961
France
Great Britain
Cape Verde
5th July 1975
Portugal
Central African Republic
13th August 1960
France
Chad
11th August 1960
France
Comoros
6th July 1975
France
Congo, Dem Republic
30th June 1960
Belgium
Congo, Republic
15th August 1960
France
Cote d'Ivoire
7th August 1960
France
Djibouti
27th June 1977
France
Egypt
28th February 1922
Great Britain
Equatorial Guinea
12th October 1968
Spain
Eritrea
November 1941
24th May 1993
Italy
Ethiopia
Ethiopia
Never a European Colony
Gabon
17th August 1960
France
Gambia
18th February 1965
Great Britain
Ghana
6th March 1957
Great Britain
Guinea
2nd October 1958
France
Guinea-Bissau
24th September 1973
Portugal
Kenya
12th December 1963
Great Britain
Lesotho
4th October 1966
Great Britain
Liberia
Never a European Colony
Libya
10th February 1947
24th December 1951
Portugal
UK/French Mandate
Madagascar
26th June 1960
France
Malawi
6th July 1964
Great Britain
Mali
4th April 1960
France
Mauritania
28th November 1960
France
Mauritius
12th March 1968
Great Britain
Morocco
2nd March 1956
7th April 1956
France
Spain
Mozambique
25th June 1975
Portugal
Namibia
21st March 1990
South Africa
Niger
3rd August 1960
France
Nigeria
1st October 1960
Great Britain
Rwanda
1st July 1962
Belgium
Sao Tome and Principe
12th July 1975
Portugal
Senegal
4th April 1960
France
Seychelles
29th June 1976
Great Britain
Sierra Leone
27th April 1961
Great Britain
Somalia
1st July 1960
Italy
Great Britain
South Africa
31st May 1910
Great Britain
Sudan
1st January 1956
Great Britain
Egypt
Swaziland
6th September 1968
Great Britain
Tanzania
Tanganyika
Zanzibar
9th December 1961
10th December 1963
Merger 26th April 1964
Great Britain
Togo
27th April 1960
France
Tunisia
20th March 1956
France
Western Sahara
14th November 1975
Spain
Uganda
9th October 1962
Great Britain
Zambia
24th October 1964
Great Britain
Zimbabwe
11th November 1965
18th April 1980
Declared against UK
Recognised by UK
---
African Independence Dates: Colonialism in Africa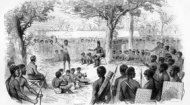 About European colonialism in Africa at the end of the 19th Century together the colonial history of each African country.
---
---
African Independence Dates: Colonial Map of Africa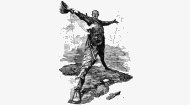 This colonial map of Africa shows European intervention across the continent superimposed on a map of Africa today.
---
---