Children in South Africa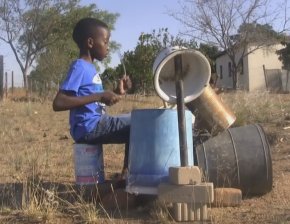 The situation for children in South Africa is admittedly better than for children living in many other African countries, however it is not as good as it should be for a country endowed with great natural resources. Many of the problems children in South Africa face can be traced back to the recent apartheid period of the country's history. For example in 1978 there was one doctor for every 400 white children, but just one doctor for every 44,000 black children. Again, there was one teacher for every 22 white children whereas black children had class sizes averaging 60 students with $696 spent on every white child's education but just $45 per annum for each black child.

These discrepancies are no better highlighted than in infant mortality rates where 2.7% of all white children died before their 5th birthday whilst 20% of black urban children died, rising steeply for 40% of all black children in rural areas. Today some 20 years after the end of Apartheid, the situation is improving however many still have unmet needs in terms of health (just under half of all children are thirty minutes away from a heath clinic), education, decent housing (one in three children live in inadequate housing) and safe food and water sources (half of all South African children do not have access to safe water supplies).

These needs are compounded by high rates of unemployment, abuse (three South African children are killed every day), crime (South Africa has the world's second highest crime rate) and the ever present spectre of HIV/AIDS which has left 1.4 million of South African children orphaned (there are a total of 2.5 million orphans in South Africa), 280,000 infected themselves out of a child population of some 18,286,000. The most recent data from 2009 indicated that 22% of the child population lives below the internationally recognised poverty line (although this has fallen from the 50% of 2000) and life expectancy for South African children is just over fifty years.

Children in South Africa attend the country's 48,000 schools with an average school catering for around 256 children with each school employing around 8 teachers. Education is broken down into primary school (grade 1 -7) and high school 8 - 12) offering thirteen years of education, although grades 10 - 12 are not compulsory. Literacy rates are high for Africa with 86.4% of children being able to read or write, although there are wide discrepancies. For example, in places like Nkandla, only one in three children go to school with 97% dropping out before they complete their education due to poverty.

Whilst many, perhaps as high as one in three, South African children do not possess legal documents precluding them from state benefits, there is the ongoing situation of children fleeing nearby Zimbabwe crossing the dangerous Limpopo River and arriving in South Africa without documentation leaving many of these young people at risk of trafficking, exploitation, prostitution and drug dealing. The video below gives insights into life for children in South Africa together with projects and programs operating in the country to support them.
---
Children in South Africa: SOS Africa Children's Charity



The SOS Africa Children's Charity is a grassroots organisation that invests in the education and care of disadvantaged children in South Africa enabling them to break the cycle of poverty and reach their full potential.
---
Children in South Africa: Breadline Africa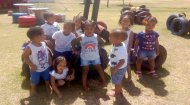 Breadline Africa provides initiatives and infrastructure to support childhood development in South Africa through early childhood education inclusing building classrooms, toilet facilities, and kitchens in pre-schools as well as primary school libraries across the country as well as emergency feeding programmes in poor communities to alleviate hunger.
---
Children in South Africa: Masicorp



Masicorp works for the disadvantaged and poor people of Masiphumelele township, focussing on education from pre-school to adult learners.
---
---
Children in South Africa: Child Welfare South Africa



CWSA (Child Welfare South Africa) is an umbrella body representing 151 child welfare affiliates with the aim of protecting children in South Africa from all forms of harm and making a difference in the lives of children.
---
Children in South Africa: Smile Foundation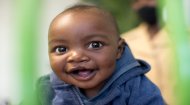 The Smile Foundation is a South African non-governmental organisation working with and supporting children living with facial conditions. They aim, together with the country's Academic Hospitals, to put the smile back onto children's faces with corrective facial reconstructive surgery and treatments.
---
Children in South Africa: South African Children's Charitable Trust



The South African Children's Charitable Trust supports vital organisations to help ensure that along with the basic rights of food, clothes, accommodation and education, children are having their developing needs met.
---
---
Children in South Africa: Child Sponsor South Africa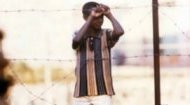 Details of how to sponsor children in South Africa with South African child sponsor organisations, charities, programs and projects.
---
Children in South Africa: Zulu Child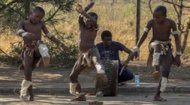 About life for Zulu children in South Africa in facts, information and video together with details of projects and programs to support Zulu children in South Africa.
---
---
Children in South Africa: Volunteer in South Africa



As well as sponsoring a child why not explore volunteering opportunities in South Africa?
---
Children in South Africa: South Africa Country Profile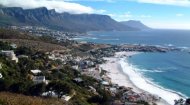 In another of our African country profiles, find out all about South Africa in a series of information articles, latest daily news, videos, and images together with volunteering and child sponsorship opportunities.
---
---