Senegal Images

This is a really cool video featuring photos and images of Senegal that gives a real feel of the country with photos of daily life, villages, town, countryside and the people of Senegal. The country itself has a population of some 16.74 million (2020) and is located on the west African coast with Mauritania to its north, Mali to its east and Guinea and Guinea-Bissau to its south. It also completely surrounds Gambia save for its coastline and even briefly formed a confederation with that country to form Senegambia in 1982 however seven years later this was dissolved. Senegal describes itself as the 'gateway to West Africa' and has an excellent all year climate, golden beaches and a warm friendly people who adhere to the traditional values of Kersa (respect for others), Tegin (good manners) as well as Terranga (hospitality).

If visiting Senegal places of interest include the Djoudj National Park on the north bank of the River Senegal best known for its 400 species of birds. The park is a World Heritage site covering 60 square miles and an estimated three million birds migrate there every year. The park is also home to warthogs, jackals, hyenas, monkeys, mongeese and gazelles however the ecosystem there is currently in danger due to the encroaching desertification in the region and introduction of a giant salvinia plant; an invasive plant that spreads exponentially choking other plant life. Other national parks include the Bandia Nature Reserve about 40 miles from Dakar and the Niololo Koba National Park, home to one of the largest animal reserves in West Africa with wildlife including elephants, lions and gazelles.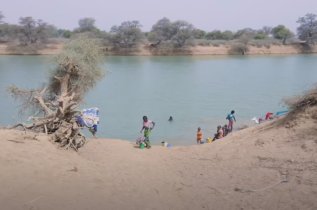 No visit to Senegal could be complete without a visit to Goree Island (article below) that was used as a slave transport station. While on the island take in the Musee Historique which chronicles the history of Senegal from prehistoric times and the Musee de la Mer where you can explore the lives of those who lived by the sea and supported themselves through fishing. For those who like a bit of nightlife, Dakar has many restaurants and night clubs. The video (below) explores more images of Senegal culture.
---
Senegal Images: Volunteer in Senegal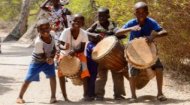 Check out all the latest fee paying and free African volunteer work placements and charity work job opportunities abroad with local projects and volunteering organisations in Senegal.
---

A brief history of the island of Goree off the coast of Senegal that was used as a slave trading station.
---

Use this Google Earth satellite map of Senegal in Africa to explore and take a virtual tour of Senegal and zoom in on places of interest.
---
---
Senegal Images: Child Sponsor Senegal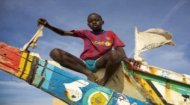 Details of how to sponsor children in Senegal with Senegal child sponsor organisations, charities, programs and projects.
---
Senegal Images: Senegal Country Profile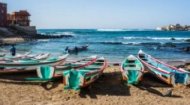 Find out all about Senegal in a series of information articles, latest daily news, videos, and images together with volunteering and child sponsorship opportunities.
---
---