Praia Profile

Formerly known as Praia de Santa Maria, Praia is the capital of the island nation of Cape Verde and with 159,050 inhabitants (although the last census was taken in 2017) is home to over a quarter of the nation's population. Praia, meaning 'beach' is located on the south-east of Santiago island. Founded in 1650 it took over the role as capital in 1770 from the oldest settlement in Cape Verde, Cidade Velha (Old City), which had been an important gateway for the trading of slaves from Guinea-Bissau and Sierra Leone to the Americas, notably Brazil. Today Praia's economy is based on the export of coffee, tropical fruits and sugar supplemented by fishing and tourism.

Unfortunately, despite its location, many report that Praia is unwelcoming to tourists with frequent reports of muggings, litter everywhere and unsanitary conditions not least because of no public toilet facilities. Overall Praia is somewhat run down with crumbling colonial buildings dating from the 1820s, wrecked and rusting boats littering the shoreline and tin roofed stalls straddling the markets alongside shanty type buildings that line the streets and continue as you leave the dusty town.

Places worth visiting include the Ethnographic Museum, the Jaime Mota Barracks dating from 1826, the Presidential Palace which was constructed in the end of the 19th century to house the Portuguese governor, and the Monumento de Diogo Gomes, named after the Portuguese navigator who discovered the island of Santiago in 1460. History buffs may want to note that Praia was the first stop of Charles Darwin's voyage with HMS Beagle in 1832!
---
Praia Profile: Volunteer in Cape Verde



Check out all the latest fee paying and free African volunteer work placements and charity work job opportunities abroad with local projects and volunteering organisations in Cape Verde.
---

A satellite map of Praia, capital city of Cape Vere, which you can use to zoom in to explore each street of the city and its major tourist attractions.
---
---
Praia Profile: Child Sponsor Cape Verde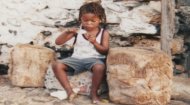 Details of how to sponsor a child in Cape Verde with Cape Verde child sponsor organisations, charities, programs and projects.
---
Praia Profile: Cape Verde Profile



In another of our African country profiles, find out all about Cape Verde in a series of information articles, latest daily news, videos, and images together with volunteering and child sponsorship opportunities.
---
---