Child Sponsor Cape Verde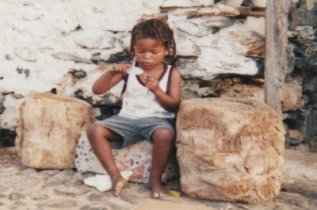 Cape Verde enjoys economic and political stability, however its ten main islands have few natural resources and are prone to drought driving many abroad to the extent that today more Cape Verdeans live elsewhere than on the islands; in the last decade alone 200,000 have died during drought conditions leaving the population at just over half a million people. Those who live and work abroad tend to send money home to their families increasing its foreign currency reserves and ability to import much needed foodstuffs. Just 7% of the population live under the poverty line of 60p a day, however many children in Cape Verde have poor access to clean water and sanitation and they also suffer from regular outbreaks of cholera and there are few doctors on the islands to assist when these outbreaks occur.

Currently 20% of the child population in Cape Verde lack access to regular supplies of drinking water and 14% of all children are under nourished; 82% of all food has to be imported to meet the country's needs. There are 221,000 children under the age of 18 in Cape Verde and whilst primary school enrolment is pretty much universal only 27% of all children attend secondary school. Many miss out on school to engage in child labour; working in agriculture and often exposed to dangerous machinery or in domestic servitude or simply washing cars and street vending to supplement the meagre family income. During the 1980s many moved into the capital of Praia putting pressure on already limited resources where housing was already of poor quality resulting in some children being abandoned, however there has, of late, been a tendency for many to migrate back into rural areas where there is poor access to basic amenities such as sanitation which is available to just 39% of the rural child population.

Child sponsor programs in Cape Verde concentrate on ensuring each child in Cape Verde has access to basic necessities such as food and education, whilst other work include the expensive extraction of the islands' underground water reserves and educating the population about the dangers of deforestation and sustainable environmental issues however, unlike many other countries in Africa, there are few child sponsor programs in Cape Verde. You can help when you sponsor a child in Cape Verde.
---
Child Sponsor Cape Verde: The Lighthouse Project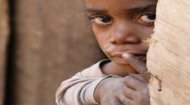 In a shameless bit of self-promotion, read this novel by the African Volunteer Network team about volunteering in Uganda. "Well worth the read especially for those working with non-profits abroad. In fact, it should be required reading."
---
Child Sponsor Cape Verde: SOS Children's Villages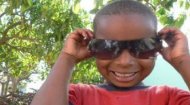 With SOS Children, you can help orphaned and abandoned children when you sponsor a child in Cape Verde.
---
---
Child Sponsor Cape Verde: Volunteer in Cape Verde



As well as sponsoring a child why not explore volunteering opportunities in Cape Verde?
---
Child Sponsor Cape Verde: Cape Verde Profile



In another of our African country profiles, find out all about Cape Verde in a series of information articles, latest daily news, videos, and images together with volunteering and child sponsorship opportunities.
---
---