Madagascar History

The history of Madagascar, named after one of its constituent islands, the fourth largest island in the world, can be traced back to around 400CE when seafarer settlers from Indonesia inhabited the islands and continued to do so until at least the 15th Century. Long before that, what was to become Madagascar actually split from the Indian sub-continent around 90 million years ago and the first written records in Madagascar history stem from the 7th Century when Arabs and East Africans established trade outposts on the main island. The first known European contact occurred in 1500 with the Portuguese establishing trading ports there, followed soon after by the French. By the mid 16th Century the Merina (a people within Malagasy culture) King Andriamanelo extended his control over greater Imerina and by the time of King Andrianampoinimerina (reigned 1787 - 1810) almost the entire island was under his control.

This was finally accomplished during the rule of his son King Radama I the Great (reigned 1810-1828) who became king at the age of 17 and who took twelve wives, one of whom, his adopted sister Ranavalona, succeeded him after he was found drunk with his throat slashed; many believe a crime committed by her to speed up the succession. Queen Ranavalona I (below) reversed her husband's policy of greater links with Britain and France by expelling all foreigners from the kingdom and banning Christianity. This policy was reversed again under Radama II (reigned 1861 - 1863).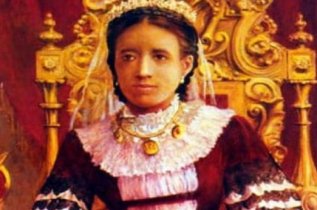 The French invaded Madagascar in 1883 in the Franco-Hova Wars in an attempt to restore property that had been confiscated from them and establish French rule over what was seen as an important link in the trade route to India. The war came to an end in 1896 when Queen Ranavalona III was exiled to Reunion and later to Algeria with the monarchy abolished, and Madagascar becoming a French colony. This period in Madagascar history was harsh and secret societies emerged plotting against French colonialism with a major uprising between 1947-1948 resulting in the deaths of between 11,000 - 80,000 Malagasy. Although the rebellion was crushed, independence political activity increased largely led by Philibert Tsiranana, head of the Social Democratic Party. On 14th October 1958 Madagascar, renamed the Malagasy Republic, became an autonomous republic within the French Community finally achieving full independence on 26th June 1960 with Tsiranana becoming the newly emerging nation's first president.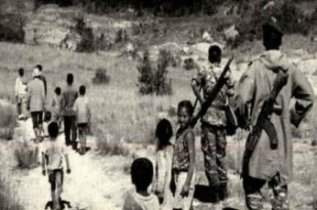 Tsiranana's rule saw the centralisation of government, the Merina sidelined in favour of the coastal peoples, the Social Democratic Party in total control of parliament and the repression of dissidents. In 1967 Tsiranana strengthened ties with the apartheid regime in South Africa however, despite being 're-elected' in 1972 ,a wave of protests swept the country that year and Tsiranana (below) was forced to hand power over to Gen. Gabriel Ramanantsoa, who became prime minister with Tsiranana remaining as nominal president. A referendum later that year approved Ramanantsoa's plan to rule without parliament for five years and Tsiranana resigned the presidency dying on the island of natural causes in 1978. (His son Philippe stood in the Madagascar presidential election of 2006, coming in twelfth with only 0.02% of the vote.)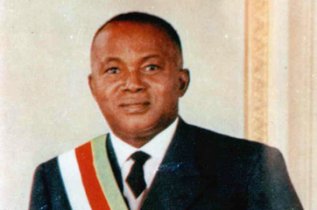 The next period in the history of Madagascar saw a succession of unstable governments, coups and assassination attempts at odds with a military aim of creating a 'socialist paradise' with firm ties to the Soviet Union and the spurning of ties with the west. The economy of the country, renamed the Republic of Madagascar in 1975, collapsed due to these socialist policies and the economy was further damaged by massive falls in tourism due to the ongoing political instability. In 2009 President Marc Ravalomanana was deposed by the military and Andry Rajoelina, former Mayor of Antananarivo and media mogul, was installed as president with a promise to restore democracy through planned elections.

In 2010 the EU decided to suspend humanitarian and development aid to Madagascar in frustration at the lack of any tangible progress towards that democracy after a fifteenth month transitional agreement was agreed in the summer of 2009 but failed to be implemented. In 2012 the African Union demanded that both Rajoelina and Ravalomanana withdraw their candidature and, following elections in 2013, Hery Martial Rakotoarimanana Rajaonarimampianina was proclaimed the victor on 7th January 2014 with nearly 54% of the vote. Rajoelina however went on to win the 2018 election with 55.66 % of the vote and was inaugurated President of Madagascar on 19 January 2019. Despite this win, Madagascar has continued to be plagued with political uncertainty and turmoil with the island itself being under a lockdown since the Covid-19 pandemic hit and its southern region is in the grips of a famine. There have been recent attempts to assassinate the president and head of the national police force.
---
Madagascar History: Volunteer in Madagascar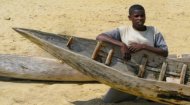 Check out all the latest fee paying and free African volunteer work placements and charity work job opportunities abroad with local projects and volunteering organisations in Madagascar.
---
Madagascar History: Life in Madagascar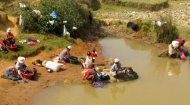 An informational article about daily life in Madagascar, focussing on how children live there and the challenges they face.
---
---
Madagascar History: Child Sponsor Madagascar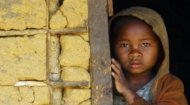 Details of how to sponsor children in Madagascar with Malagasy child sponsor organisations, charities, programs and projects.
---
Madagascar History: Madagascar Country Profile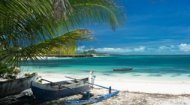 In another of our African country profiles, find out all about Madagascar in a series of information articles, latest daily news, videos, and images together with volunteering and child sponsorship opportunities.
---
---