Luanda Profile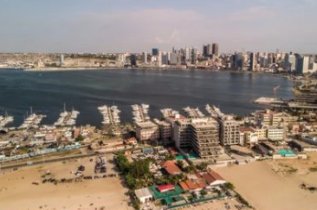 Sao Paulo de Loanda was founded on 25th January 1575 by Portuguese explorer Paulo Dias de Novais and it served as the centre of the Portuguese slave trade to Brazil until 1836. By the time of independence from Portugal in 1975 the city, now known as Luanda, was mainly populated by white Portuguese, however, the Angolan civil war that broke out in that year saw most of the Portuguese fleeing the city back to Portugal or South Africa. The Angolan people flooded in ~ but without any of the requisite knowledge to run and maintain a city whose population was growing to the 2.572 million (2020) of today and is the third most populous Portuguese speaking city on the world. This mass influx created mass slums flowing out from the centre of Luanda which was simply not able to cope with the millions heading towards it.

By 2002 the situation had stabilised and Angola's vast oil and diamond production helped reconstruct the city until today, when it is considered one of the most expensive places to live on the African continent; a house can be $10,000 a month to rent, a basic meal out for two is easily $50, a hotel room can weigh in at $400 a night and a kilo of imported tomatoes a staggering $16. This wealth is leading to a massive rebuilding within the city which is likely to drastically alter the city skyline over the next few year, although most Angolans could ever dream of being able to afford to live there. Located in the north-east of Angola on the Atlantic coast (below), the city is easily accessible via Quatro de Fevereiro airport.

Tourist attractions in Luanda include the UNESCO World Heritage site of the Saint Michael Fortress, built in 1576 by Angola's first Captain-Governor Paulo Dias de Novais. St Michael's features ornate wall tiles that tell the story of Angola's history including its role as being a holding place for slaves enroute to Brazil. For those who want to further explore Luanda's role in the slave trade, take time to visit the Museu Nacional da Escravatura (National Museum of Slavery) which features many releics of that trade and bizarrely is where many slaves were baptized before being transported to the Americas. The Palacio de Ferro (Iron Palace) is also worth a visit not least because it was built in France and destined for Madagascar but was lost at sea and eventually drifted before being taken by the Portuguese and brought to Luanda. Today it also serves as a diamond museum. For those who simply want to chill, just south of Luanda is the eighteen mile long and just under two mile wide peninsula of Mussulo that is lined with beach huts, restuarants and bars, from where you can swim, surf or take in views of the city.
---
Luanda Profile: Volunteer in Angola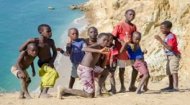 Check out all the latest fee paying and free African volunteer work placements and charity work job opportunities abroad with local projects and volunteering organisations in Angola.
---
Luanda Profile: Luanda City Map



A satellite map of Luanda, capital city of Angola, which you can use to zoom in to explore each street of the city and its major tourist attractions.
---
Luanda Profile: Luanda Airport



Quatro de Fevereiro International Airport is the main airport in Angola two miles from the capital where you will probably enter Angola for your volunteering experience.
---
---
Luanda Profile: Child Sponsor Angola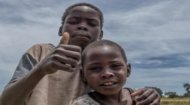 Details of how to sponsor children in Angola with Angolan child sponsor organisations, charities, programs and projects.
---
Luanda Profile: Angola Profile



In another of our African country profiles, find out all about Angola in a series of information articles, latest daily news, videos, and images together with volunteering and child sponsorship opportunities.
---
---