Volunteer Work Angola

There are limited volunteer work opportunities in Angola not least because the twenty-seven year civil war that raged until 2002. That war left landmines strewn throughout the country meaning few visitors venture outside the capital city of Luanda for fear of literally being blown up. Angola is in 148th place out of 186 countries and territories in 2019 when ranked in terms of life expectancy, literacy, access to knowledge and the living standards of a country with a life expectancy for males and females of 61.15 years (2019) but this is partly due to the effects of war. Angola has one of the highest infant mortality rates of any country in the world and a half of all children in the country live below the poverty line with just over half of the child population having access to safe water supplies. Despite this, the volunteer sector doesn't really have any hold in Angola.

What volunteer work there is focuses on rebuilding work, particularly schools and health centres and on rolling out vaccinations and treatment programs addressing malaria and HIV/AIDS. There is also work to be undertaken with the thousands of children who live and sleep on the streets of Luanda as one million children lost one parent during the war and, out of those, 300,000 lost both parents leaving them as defenceless orphans who went to the capital hoping for a better life.

Please note that many volunteer opportunities in Angola were disrupted by the COVID-19 pandemic which led to the permanent closure of some volunteer opportunities and restrictions on others. Hopefully things are now beginning to return to normal. If you run or know of a volunteer work project in Angola let us know by contacting us here. We look forward to hearing from you!
---
Volunteer Work Angola: The Lighthouse Project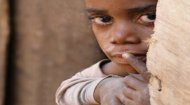 In a shameless bit of self-promotion, read this novel by the African Volunteer Network team about volunteering in Uganda. "Well worth the read especially for those working with non-profits abroad. In fact, it should be required reading."
---

ADPP has a record of 25 years of development work with communities throughout Angola.
---
Volunteer Work Angola: IniciativAngola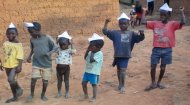 IniciativAngola offer both summer and long term volunteer work placements with children in Angola.
---
---
Volunteer Work Angola: Move-te Mais



Portugeuse volunteer work in health prevention and screenings, education and social support.
---
Volunteer Work Angola: Angola Red Cross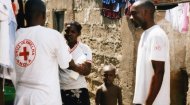 Primarily Spanish language volunteer work in Angola assisting as and where required to help.
---
Volunteer Work Angola: Kumossi



This project is well suited to caring and enthusiastic volunteers, who have an interest in working with children from disadvantaged backgrounds.
---
---
Volunteer Work Angola: Child Sponsor Angola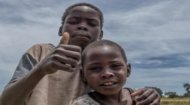 Another way to volunteer in Angola is to do so by sponsoring a child there. This link provides details of Angolan child sponsor organisations, charities, programs and projects.
---
Volunteer Work Angola: Angola Profile



In another of our African country profiles, find out all about Angola in a series of information articles, latest daily news, videos, and images together with volunteering and child sponsorship opportunities.
---
---