Kenya Street Children

It is estimated there are around 250,000-300,000 street children in Kenya, around half of them aged between eleven to fifteen years old. Alarmingly, children below the age of five constitute 7% of the known total. According to Nairobi-based charity Kenya Children of Hope, 63% of these homeless children have been on the streets on a part or full-time basis for up to five years. The figures have been rising alarmingly on the streets of Nairobi, Kenya's capital; 16,000 in 1989; 25,000 in 1993; 50,000 in 1998 and today around 60-70,000. Although the exact numbers are not known, they are swelled by the children of refugees who have fled ongoing violence in South Sudan and Somalia. Few chose to live on the streets, but for many it is the only option.

As one child explained, "I lost my parents three years ago and since then I have been living in the streets without shelter and assurance of having food every day. Nobody cares about me; whether I live or not. People don't want to look at me. I'm trash. I don't want to live in the streets, but I have nobody. My uncle beat me hard when I lived there, and so I ran. Living in the street is the only way to survive". Many of these children end up on the streets after being orphaned, abandoned or are sent there by poor parents to either work or beg, and of course, cities like Nairobi are well known for their numbers of child prostitutes. Most are branded 'chokora' (scavengers) and elicit not just little sympathy, but physical abuse including by the police. For example there was what can be described as a 'raid' on the street children of Eldoret, the fifth most populated urban area in the country after Nairobi, Mombasa, Nakuru and Ruiru. The police descended on the children, allegedly beating as they went, forcing them into the already surging Sosiani river that runs alongside the area where the children are forced to live, a dump known locally as the 'California Barracks'. Six children died in that episode and, over the next two days, the corpses of five more children washed downstream. The youngest of them was just nine years old.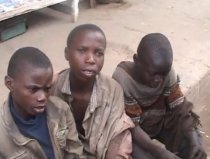 Such are the number of street children in some of the towns that they have their own 'code' with the streets being divided up into age zones, with street children who stray outside their designated area at risk of physical punishment by older children. Some have simply ended up there because of climate change with droughts having a devastating effect on family livelihoods, particularly for the most marginalised and vulnerable communities in rural Kenya who are dependent on subsistence farming. Many of these children can be seen with glue bottles grasped by their teeth keeping the fumes close, fumes which quell the pangs of hunger and seemingly keep the cold and emotional pain at bay. One street child also noted that when high on glue it gave him the courage to eat garbage. One rehabilitation group believes that between 52-90% of street children in Kenya are glue addicts. This all makes any attempt at rehabilitation even more difficult as, although many would not initially want to remain on the streets, any other lifestyle with its social constraints has become alien and unworkable.


Often when we think of African children and are asked to sponsor them we are presented with images of sad children looking longingly into a camera. These are not those children. These street children, rob, steal, beg and sell themselves just to get a high. But they're still children and need help just as much or their future is as bleak as their present. The video (below) provides some insight into the lives of street children in Kenya. Also below is a directory of projects and programs working in Kenya with these children who are looking for your support.
---
Kenya Street Children: Beyond the Orphanage



Beyond the Orphanage work with Alfajiri, a community-based organization, to reach out to street children in Kenya to offer them a safe place to go. They look at finding individual solutions for each child and strive to find them the best opportunity to participate successfully and productively in the community. They also offer a child sponsor program. You can help street children in Kenya when you offer them your support.
---
Kenya Street Children: The Kenyan Children's Project (KCP)



Working with children living in extreme conditions on the streets of kenya and others who are wait unnecessary lengths of time in children's institutes and orphanage settings.
---
Kenya Street Children: International Needs



International Needs are looking for help to continue to run the Grace Empowerment programme supporting children and young people on Nairobi's streets. They are looking to expand this work in the future to buy, rent or build a facility to be a half-way house and rehabilitation centre to help street boys start their journey off the street.
---
---
Kenya Street Children: Kenya Children of Hope



Children of Hope (Tumaini Kwa Watoto- Swahili translation) is a charity that operates a family based outreach empowerment and foster care program aimed at orphans and vulnerable children living on the streets of Nairobi, Kenya. They seek to rescue these children from the streets, reunite, reconcile and restore them with their families and/or place them in a foster family and be involved in the process of restoring them and their families to reach their full potential.
---
MKenya Street Children: Molo Street Children Project



Molo Street Children Project is a Christian, community based organisation that is working with street children and poor families in the Molo area of Kenya.
---
---
Kenya Street Children: Sponsor Children in Kenya



Details of how to sponsor a child in Kenya with Kenyan child sponsor programs.
---
Kenya Street Children: Volunteer in Kenya



You can find out more about Maasai children and their lives when you volunteer in Kenya.
---
Kenya Street Children: Kenya Country Profile



In another of our African country profiles, find out all about Kenya in a series of information articles, latest daily news, videos, and images together with volunteering and child sponsorship opportunities.
---
---