Kampala Profile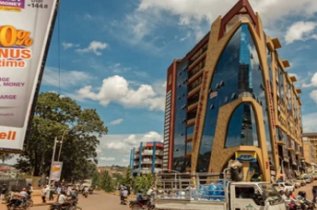 Before independence from the UK in 1962, Uganda was not a country, rather a loose grouping of ethnic tribes with an equally large number of systems of governance. The largest such grouping was in Buganda, a sub-kingdom within Uganda which today has its own monarch, the Kabaka. Buganda occupies the central region of Uganda including its present day capital, Kampala, although until the time of independence Entebbe was the capital city. Kampala was chosen by the king of Buganda as his capital as he was a keen hunter and the area had an abundance of wildlife. Kampala still has many vestiges of the Buganda period including the Buganda Court of Justice and Parliament buildings as well as the Lubiri palace and Kasubi Tombs, the final resting place of four of the kings of Buganda. Other places of interest if visiting Kampala include the Uganda Museum founded in 1908 with its displays of Uganda's cultural heritage; the bustling New St. Balikuddembe Market, known locally as Owino market, where you can find just about everything; the Nommo Art Gallery, the home of Uganda's developing visual arts and the craft shops around Buganda Road close to the National Theatre.

Today Kampala is home to around 3.3m residents, a steep rise from 330,700 in 1969 and is mostly Anglican in nature with a Muslim population of around 10%. The city infrastructure reflected the state of the Ugandan economy by the 1980s, run down and dilapidated and few repairs had been undertaken in Kampala after it was invaded and seized by Tanzanian troops in the Uganda-Tanzania War of 1978-1979 which saw the overthrow of the dictator Idi Amin. Despite this, it is known as a relatively safe, friendly city and, like other African cities, totally overrun with vehicles, mainly motorbikes (boda bodas)!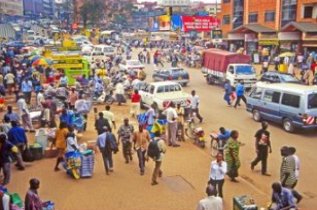 Since the installation of Yoweri Museveni as president in 1986, much of the city has been rebuilt and is widely hailed as a confident city at the heart of academic excellence in Uganda and is reported to be among the fastest-growing cities in Africa, with an annual population growth rate of 4.03 percent, and is regularly ranked as East Africa's best city to live in, ahead of Nairobi and Kigali. Not sure we'd agree as it's very busy with impatient drivers mounting kerbs ignoring the safety of pedestrians and Kigali, in neighbouring Rwanda, is a much more relaxed, clean environment as is Entebbe, which we prefer as somewhere to stay. Check out the video below to find out more about the look and feel of Kampala.

If flying into Entebbe Airport at the beginning on your Ugandan volunteering experience, chances are you will arrive late at night. We therefore recommend you stay the next day exploring Entebbe before embarking on your journey south. Although the recent opening of a bypass has eased conjestion, it is still possible to get log-jammed for hours in Kampala unless setting off before 5 o'clock in the morning and, after a long flight, you'll probably need more than a couple of hours sleep! For places to stay and things to do check out western-uganda.net.
---
Kampala Profile: Volunteer in Uganda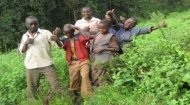 Check out all the latest fee paying and free African volunteer work placements and charity work job opportunities abroad with local projects and volunteering organisations in Uganda.
---
Kampala Profile: Kampala City Map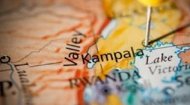 A satellite map of Kampala, capital city of Uganda, which you can use to zoom in to explore each street of Kampala and its major tourist attractions.
---
---
Kampala Profile: Sponsor a Child Uganda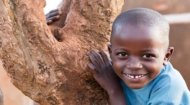 Details of how to sponsor children in Uganda with Ugandan child sponsor organisations, charities, programs and projects.
---
Kampala Profile: Uganda Country Profile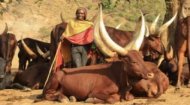 In another of our African country profiles, find out all about Uganda in a series of information articles, latest daily news, videos, and images together with volunteering and child sponsorship opportunities.
---
---