Ivory Coast Profile

Although widely known as the Ivory Coast, the Republic of Cote d'Ivoire, with its population of 26.38 million (2020), is today a sad example of how a stable and peaceful country can slip into internal warfare and factionalism. A former French colony, the Ivory Coast gained its independence from France in 1960 under President Houphouet-Boigny and became respected for its developing economy and social harmony that was so missing in neighbouring nations. Despite this, there was little in the way of democracy with one party rule and the press anything but free, however there was a consensus that Boigny ran the country in the best interests of its citizens, if one citizen in particular ~ Boihny himself.

The economy of the Ivory Coast suffered badly in the world wide recession of the early 1980s and the nation's debt spiralled leading to civil unrest. Boigny responded by allowing multi-party politics to evolve however he died in 1993 having lost much of the prestige associated with his early rule. He named Henri Konan Bedie as his successor. As with many of the newly emerging African nations, many were composed from tribal and ethnic areas, and, unlike his predecessor who strove to create a harmonious country blending the mainly Christian south of the country with the Islamic north, Bedie was keen to exploit the differences creating ethnic strains.

A military coup in 1999 ousted Bedie and put Robert Guei in power with elections called for 2000. Guei won the election but the rising dissatisfaction with his regime led to his opponent, Laurent Gbagbo, a former political prisoner of the Boigny regime, taking office on 26 October 2000. It is widely believed that Gbagdo actually won the election with nearly 60% of the vote, but Guei had rigged the result. In 2002, whilst Gbagdo was out of the country on a foreign visit to Italy, there was a troop uprising in an attempt to depose him. Although the coup failed, the insurgency effectively split the country into two with the government holding the south as a French styled republic and the rebels controlling the Muslim north of the country incensed that they were being marginalised in the country's politics. The political instability has also affected foreign investment and the Ivory Coast's overall economy.

The election of 2010 tipped the country into an effective civil war. President Laurent Gbagbo ran against former Prime Minister Alassane Ouattara and the Electoral Commission ruled that Ouattara had won the election by a margin off 54% to 46%, however Gbagbo disputed the result and embedded himself in the Presidential Palace surrounded by army loyalists. In April 2011 Laurent Gbagbo was captured and Ouattara was formally inaugurated as president with Laurent Gbagbo handed over to the International Criminal Court in The Hague in November 2011 to face charges of crimes against humanity. He was eventually aquitted on 15th January 2019 and declared free to return home where he was invited by Presidnet Ouattara with the promise of the benefits that are typically given to ex-presidents, including state-provided security and a state pension. In November 2020, Ouattara won third term in office in elections boycotted by the opposition with his opponents arguing it was illegal for him to run for a third term, however Ivory Coast's Constitutional Council formally ratified his re-election to a third term in November 2020. Today The Ivory Coast is in 162th place out of 189 countries and territories in 2019 when ranked in terms of life expectancy, literacy, access to knowledge and the living standards of a country.
---
Ivory Coast Profile: Volunteer in Cote d'Ivoire



Check out all the latest fee paying and free African volunteer work placements and charity work job opportunities abroad with local projects and volunteering organisations in Cote d'Ivoire (Ivory Coast).
---
Ivory Coast Profile: Yamoussoukro Profile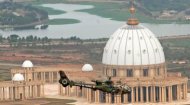 Facts, a video and information about Yamoussoukro the capital city of the Ivory Coast now called and known as Cote d'Ivoire.
---
---
Ivory Coast Profile: Child Sponsor Ivory Coast



Details of how to sponsor children in the Ivory Coast with Cote d'Ivoire child sponsor organisations, charities, programs and projects.
---
Ivory Coast Profile: Ivory Coast Map



Use this Google Earth satellite map of Ivory Coast (Cote d'Ivoire) in Africa to explore and take a virtual tour of Ivory Coast and zoom in on places of interest.
---
Ivory Coast Profile: Ivory Coast News



Read all the latest and breaking news from Cote d'Ivoire together with current events at our Ivory Coast profile news portal.
---
---