Bora Bora Beach

When most people think of Burundi they think of poverty and underdevelopment, yet a short distance from the capital city of Bujumbura is the idyllic beach at Bora Bora, truly a hidden gem on Lake Tanganyika, an expanse of water nestled between four countries in central Africa. Lake Tanganyika itself is the world's second largest freshwater lake that flows into the Congo on its way to the Atlantic Ocean. The lake was unknown to the outside world until 1858 and was even visited by the famous explorer David Livingstone.

Despite its beauty, swimming in the lake presents some dangers as not only is it home to scores of jellyfish, the waters off Bora Bora are also home to the man eating crocodile species the Gustave. The area around Bora Bora is host to a number of hotels that boast swimming pools and other recreational facilities. Well worth a visit if in the area!
---
Bora Bora Beach: Main Lakes of Africa



Videos, information and profiles about some of the major lakes in Africa where you may be volunteering including Lake Tanganyika which is home to the Bora Bora beach.
---
---
Bora Bora Beach: Burindi Country Profile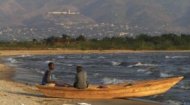 In another of our African country profiles, find out all about Burundi in a series of information articles, latest daily news, videos, and images together with volunteering and child sponsorship opportunities.
---
---