Benin Profile

The present day tropical nation of Benin was formerly known as Dahomey after the Kingdom of Dahomey that ruled the land from the seventeenth to the nineteenth century. After the slave trade was abolished, France took control of the area during the scramble for Africa, renaming it French Dahomey. In 1960 Dahomey gained independence from France ushering in a new era of what was supposed to be democratic government. Democratic it was, however almost inevitably the next twelve years were marred by internal divisions reflecting the composition of tribes and areas with the country. Eventually, after the 1970 election which became violent, the three leading figures in Benin agreed to rule as a presidential council but were overthrown in 1972 by Lt. Col. Mathieu Kerekou who proclaimed it as a Marxist State and renamed it the People' Republic of Benin on 30th November 1975.

Kerekou placed nearly all economic activity under state control which effectively cut off supplies of foreign investment and the country was reduced to taking nuclear waste to process from France to pay its bills. As the economy tanked and professionals left the country in search of a better life, things came to a head in 1989 when the Marxist regime ran out of funds to pay the army amongst others. With the collapse of the banking system and with it the Benin economy, Kerekou was forced to renounce Marxism and arranged elections in which he was defeated in 1991 by Nicephore Soglo.

To his credit, Kerekou (above) abided by the peoples' decision and became the first black African president to voluntarily give up office after an election defeat. It was perhaps this that saw him re-elected in 1996 until 2006 when he was succeeded by Thomas Boni Yayi, although there were claims of election irregularities. Today Benin is in 158th place out of 189 countries and territories in 2018 when ranked in terms of life expectancy, literacy, access to knowledge and the living standards of a country. Until recently Benin was considered a model of democracy in Africa however its democratic system has eroded since President Talon took office on 6th April 2016. Two years later, his government introduced new rules for fielding candidates and raised the cost of registering.

The electoral commission, packed with Mr Talon's allies, barred all opposition parties from the parliamentary election in 2019, resulting in a parliament made up entirely of supporters of Mr Talon. Unsurprising he was reelected with 86% of the vote in 2021. Benin's population in 2018 was estimated to be approximately 11.49 million. Benin is highly dependent on agriculture, and is a large exporter of cotton and palm oil. Substantial employment and income arise from subsistence farming. The above picture collection shows typical images from Benin and the video (below) depicts daily life there.
---
Benin Profile: Volunteer in Benin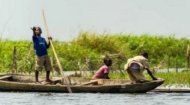 Check out all the latest fee paying and free African volunteer work placements and charity work job opportunities abroad with local projects and volunteering organisations in Benin.
---
Benin Profile: Porto Novo Profile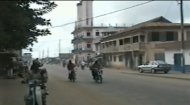 Facts, video and information about Porto Novo the capital city of the Republic of Benin. Find out more here.
---
---
Benin Profile: Child Sponsor Benin



Details of how to sponsor children in Benin with Benin child sponsor organisations, charities, programs and projects.
---

Use this Google Earth satellite map of the Benin to explore and take a virtual tour of the country of Benin in Africa and zoom in on places of interest.
---
Benin Profile: Benin News



Read all the latest news and current events from Benin online in our Benin profile page. Updated daily.
---
---