Child Sponsor Benin

Benin, with a population of 12.12 million (2020), is situated in West Africa with Ghana to its east, Nigeria to its west, Burkina Faso to its north-west and Niger to its north. It's acknowledged as a stable democracy with strong civil values however, like many other countries in West Africa, its resources and infrastructure are under developed and corruption is rife. Unlike many other countries in Africa, there are few child sponsor programs in Benin, however there remain real issues with children living in poverty, subject to trafficking and sexual exploitation as well as abandonment. Benin is in 158th place out of 189 countries and territories in 2019 in terms of life expectancy, literacy, access to knowledge and living standards of a country putting the country in the low human development category. Although there has been some economic progress in recent years, millions remain poor and, in the northern areas of the country, extreme poverty and limited access to health services is widespread. Life expectancy is 61.77 years (2019).

Nearly 50% of the population of Benin is aged 15 years and children have little status with many being trafficked to nearby countries where they often end up in domestic servitude, agriculture, cotton plantations or selling goods on the street. Some end up labouring in quarries while others work in the diamond mines of Angola. Given that 40% of all children in Benin have no birth certificate, they have no official identity or nationality making this practice easier to take place. For a child living in rural areas, even when not trafficked, they are often sent to family or friends in urban areas with a promise of a better life and education but end up just working, often in poor conditions. Many simply walk away and end up on the streets. It is estimated that some 45% of the child population in Benin is engaged in child labour. Many other children are accused of witchcraft.

Child sponsor programs in Benin work with children who have been abandoned because of traditional beliefs; a belief that if a mother dies in childbirth or the child has a disability it is evil and should therefore be abandoned or even have its life ended. Other programs include child access to education, health resources, nutrition as well as preventing children being trafficked. You can help when you sponsor a child in Benin.
---
Child Sponsor Benin: The Lighthouse Project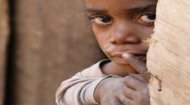 In a shameless bit of self-promotion, read this novel by the African Volunteer Network team about volunteering in Uganda. "Well worth the read especially for those working with non-profits abroad. In fact, it should be required reading."
---
Child Sponsor Benin: SOS Children's Villages



With SOS Children, you can help orphaned and abandoned children when you sponsor a child in Benin.
---

Many of the children Aleimar support in Benin are in shelters because they are orphans from birth or removed from their family of origin due to poverty, superstition, death of one of the parents and refusal by the new partner. When you sponsor a child, the centres can take care of the little ones with dedication and love, guaranteeing them healthy and regular meals, medical care, education and a serene family environment in which to grow up feeling loved.
---
---
Child Sponsor Benin: Hirondelle de l'Avenir



When you Sponsor a child in Benin with Hirondelle de l'Avenir you can, if you wish to, have a close relationship with your sponsored child by exchanging emails, sending letters and visit them in their community.
---
Child Sponsor Benin: Volunteer in Benin



As well as sponsoring a child why not explore volunteering opportunities in Benin?
---
Child Sponsor Benin: Benin Country Profile



In another of our African country profiles, find out all about Benin in a series of information articles, latest daily news, videos, and images together with volunteering and child sponsorship opportunities.
---
---