Angola Images

Angola is located in southern Africa. To its west is the South Atlantic ocean, to the south Namibia, the north the Democratic Republic of Congo and to the east Zambia. Slightly less than twice the size of Texas and the seventh largest country in Africa, Angola is home to some 31.83 million (2019) citizens, including those living in the discontiguous Cabinda Province. There, despite the end of the Angola civil war in 2002, an armed struggle still exists with some factions declaring an independent Republic of Cabinda free from 'illegal' Angolan rule. Cabinda Province is a strip of land within the Democratic Republic of Congo of some 3000 sq miles with a population of 824,143 (2019). A Portugese colony, it was ceded to Angola by the Treaty of Alvor in 1975, however without the consent of a single Cabindian political organisation who remain adamant that the treaty was illegal without their consent and Cabinda was not Portugal's to give away.

With only 2.65% of its land arable, Angola is reliant on foreign imports and aid to meet the country's food needs. The land itself rises in stages towards a high inland plateau covering almost two-thirds of the country. Angola has two seasons, the rainy from October to May with most rainfall occurring in April and the cool from June to September. Under its land lie diamonds, iron ore, phosphates, copper, feldspar, gold, bauxite, uranium as well as petroleum with Angola being Africa's largest oil producer after Nigeria.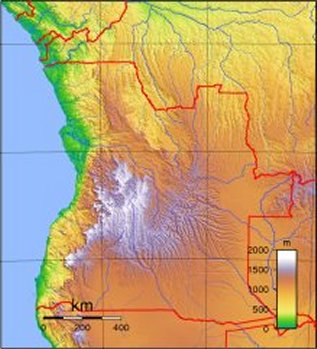 Angola has a number of rivers inclusing the Chiloango, Congo, Cuando, Cuanza, Cunene, Kasai, Kwango, Luanginga, Luena River, Lungwebungu, Okavango, Rio Quicombo, and the Zambezi River. Places of interest to visit in Angola include the Kissama National Park, the National Museum of Anthropology (despite being looted during the civil war) and the Tundavala gorge which provides a breathtaking view of the coastal plain below. Tourists may also enjoy the colonial built switchback road that joins Namibe and Lubango as it climbs the mountains at Leba using the shortest possible route. Not for nervous drivers! The video (below) shows a sequence of images of Angola presenting a country that is often only remembered for its twenty seven year old war.
---
Angola Images: Volunteer in Angola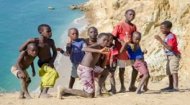 Check out all the latest fee paying and free African volunteer work placements and charity work job opportunities abroad with local projects and volunteering organisations in Angola.
---

Use this Google Earth satellite map of Angola to explore and take a virtual tour of Angola in Africa and zoom in on places of interest in Angola
---
---
Angola Images: Child Sponsor Angola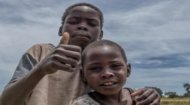 Details of how to sponsor children in Angola with Angolan child sponsor organisations, charities, programs and projects.
---

In another of our African country profiles, find out all about Angola in a series of information articles, latest daily news, videos, and images together with volunteering and child sponsorship opportunities.
---
---