Life in Angola

The twenty seven year civil war saw Angola, with its then population of some thirteen million, a devastated country, its economy in ruins and its infrastructure shattered. Worse still, the country remains, to this day, littered with landmines. Life expectancy there is 60.78 years (2018) and Angola has the second worst child mortality rate in the world, only outdone by Sierra Leone. In fact, over one in four children inside Angola are dead before their fifth birthday. This is partly due to poor access to safe water with many getting their supplies from unprotected wells causing high rates of cholera and diarrhoea. The country still has to import over half its food needs and it is estimated that severe malnutrition in Angola has affected 85,000 children since 2019.

Angola is in 148th place out of 189 countries and territories in 2019 when ranked in terms of life expectancy, literacy, access to knowledge and the living standards of a country. Emotionally around half of all children inside the worst war torn areas of Angola have been shot at, lost their homes, or seen neighbours and members of their families killed. There is widespread trafficking in Angola with boys being shipped to Namibia to herd cattle whilst girls are trafficked both internally and externally to South Africa, Namibia and the Democratic Republic of Congo for domestic servitude. Recent figures are not available, but about 85% of the population working inside Angola are engaged in agriculture with the remaining 15% employed by the industry and services sectors.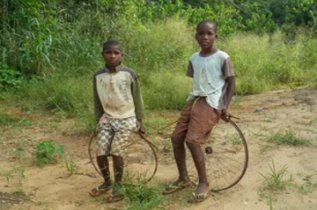 Today Angola is undertaking a major rebuilding program with foreign loans, however there are allegations that monies provided are subject to corruption and the rebuilding is slow due to mismanagement and the high rate of inflation running at 10% (although this has much reduced from the 325% of 2000). Much of this money should be going to repair irrigation systems that were destroyed during the war leading to a decline in agriculture and food production, fuelling rural poverty and also on transport structure such as roads and bridges, also destroyed, that would help farmers to get their limited produce to market. Inside Angola roles are fixed with women clearly subordinate and this is reflected in literacy rates being 82.0% for men and just 60.7% for women (but up from 56% and 28% respectively in 1998). Women often undertake the role of food trading and in agriculture whilst males are engaged in herding and wage labour. The war left many families without a male figurehead and given that women mainly work the land, today 80% of landmine victims in Angola are women and children.

The war has also had a major impact on traditional family life inside Angola with many families dispersed and those who remain united living together across generations whilst looking for lost relatives. Lost relatives who were part of the one third of the population displaced at the end of the war. Ironically in cities like Luanda there is a far from African feel with expensive restaurants and shops with a Latin American blend reflecting the influence of Portuguese culture on the country.
---
Life in Angola: Volunteer in Angola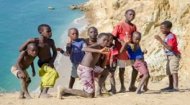 Check out all the latest fee paying and free African volunteer work placements and charity work job opportunities abroad with local projects and volunteering organisations in Angola.
---
Life in Angola: Angola Poverty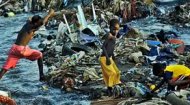 Exploring poverty in Angola with the gap between rich and poor increasing together with facts, figures and pictures and an accompanying video.
---
---
Life in Angola: Child Sponsor Angola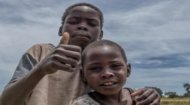 Details of how to sponsor children in Angola with Angolan child sponsor organisations, charities, programs and projects.
---
Life in Angola: Angola Profile



In another of our African country profiles, find out all about Angola in a series of information articles, latest daily news, videos, and images together with volunteering and child sponsorship opportunities.
---
---