Volunteer Work Djibouti

Djibouti, with its population of just under a million people according to 2019 figures, isn't a country many would choose to visit and its lifeline is the presence of the US military base, Camp Lemonnier, not just to bring in investment but also to protect Djibouti from the military ambitions of its neighbours. Djibouti itself has scant natural resources and its land is so desertified that it is reliant on outside foodstuffs to feed its population. In fact it can only produce just 5% of its own food needs. It can't even really afford those imports either, with humanitarian organisations like the Red Cross operating food, water and malnutrition programs to the increasingly drought stricken country.

Given the small size of its population, outside those humanitarian programs there is little volunteer work available in Djibouti, and even Medecins Sans Frontieres has ended its work there. Some have arrived and worked in a few scattered orphanages only to turn up one day to find them closed and the children dispersed and there are the odd pockets of volunteer work often run by nuns and missionaries but these are discovered on the ground rather than being better known and advertised. There are some openings in the education sector for French speakers but under 30% of all children actually attend school in Djibouti. Again, such volunteer work as there is, needs to be found on the ground.

Please note that many volunteer opportunities in Djibouti were disrupted by the COVID-19 pandemic which led to the permanent closure of some volunteer opportunities and restrictions on others. Hopefully things are now beginning to return to normal. If you run or know of a volunteer work project in Djibouti let us know by contacting us here. We look forward to hearing from you!
---
Volunteer Work Djibouti: The Lighthouse Project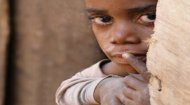 In a shameless bit of self-promotion, read this novel by the African Volunteer Network team about volunteering in Uganda. "Well worth the read especially for those working with non-profits abroad. In fact, it should be required reading."
---
Volunteer Work Djibouti: Red Crescent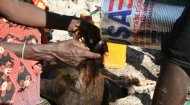 Emergency assistance and humanitarian aid to combat drought to communities across Djibouti.
---
---
Volunteer Work Djibouti: Child Sponsor Djibouti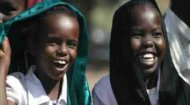 Another way to volunteer in Djibouti is to do so by sponsoring a child there. Details of how to sponsor children there with Djibouti child sponsor organisations, charities, programs and projects.
---
Volunteer Work Djibouti: Djibouti Country Profile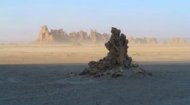 In another of our African country profiles, find out all about Djibouti in a series of information articles, latest daily news, videos, and images together with volunteering and child sponsorship opportunities.
---
---