Sierra Leone Images

Sierra Leone is a country of some 7.977 million (2020) and is about the size of the Czech Republic. Located on the west coast of Africa, it is bordered by Guinea to its north and east, by 291 miles of Atlantic Ocean coastline to the west and south-west and Liberia to its south-east. It has mountains to the east of the country, whilst the coastal area has mangrove swamps leading to wooded hills then an upland plateau as you move inland. Sierra Leone is prone to sand storms from the Sahara Desert particularly from December to February, part of its winter season which runs until April, and then has a hot and humid tropical climate from May through to December, its summer and rainy season.Images worth seeing whilst in Sierra Leone include the slave fort at Bunce Island which was a major conduit for the British slave trade to South Carolina and Georgia. Founded in 1670, tens of thousands of slaves, mainly the Gullah who lived on land on the Sierra Leone/Liberia border, were trafficked through the island until its closure in 1808.

If you like islands check out Tiwai Island on the Moa River with its popular wildlife sanctuary where, amongst other animals, you can see the colourful Diana & Colobus monkeys. (You can also take a tour along the Moa river from Guinea right down to the sea if you have a few thousand pounds and a couple of weeks to spare). Again, the Outamba-Kilimi National Park on the border with Guinea has many types of primates as well as pygmy hippos, elephants, antelopes and many species of birds.Also worth a visit is the Tacugama Chimpanzee Sanctuary, 40 minutes from Freetown, cares for orphaned & endangered chimpanzees. Once rehabilitated, the chimps are released into a protected 100 acre forest environment where they can be seen by tourists.

The National Railway Museum of Sierra Leone in Freetown is also worth checking out with its exhibits of 2' 6" gauge African trains and other historical artefacts. Other images worth seeing in the country include the Charlotte Falls, 30 minutes from the capital; the Konakridee-Yeliboya Wetlands; the National Museum in Freetown or take a walk by climbing Bintumani Mountain or bathe on the country's many beaches both on the mainland and islands. For more images of Sierra Leone, check out the video below.
---
Sierra Leone Images: Volunteer in Sierra Leone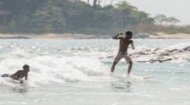 Check out all the latest fee paying and free African volunteer work placements and charity work job opportunities abroad with local projects and volunteering organisations in Sierra Leone.
---
Sierra Leone Images: Sierra Leone Map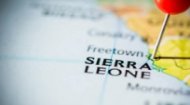 Use this Google Earth satellite map of Sierra Leone in Africa to explore and take a virtual tour of Sierra Leone and zoom in on places of interest.
---
---
Sierra Leone Images: Child Sponsor Sierra Leone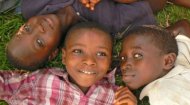 Details of how to sponsor children in Sierra Leone with Sierra Leone child sponsor organisations, charities, programs and projects.
---
Life in Sierra Leone: Sierra Leone Country Profile



In another of our African country profiles, find out all about Sierra Leone in a series of information articles, latest daily news, videos, and images together with volunteering and child sponsorship opportunities.
---
---