Ouagadougou Profile

Ouagadougou, commonly referred to as Ouaga, is the capital city of Burkina Faso and is home to 2.453 million (2019) Ouagalais, as they are known. The city was founded in the fifteenth century when two populations coexisted in the area, the Yonyonse and NINS. It gained its name following defeat of the NINS (Ninsi) by the Yonyonse under the leadership of Wubri son of Zoungrana after years of repeated attacks. Wubri then renamed the whole area 'Wogodogo' meaning 'it receives honour, respect'. Ouagadougou is a language variant of Wogodogo.

The secular capital of the Mossi Empire, Ouagadougou is located on the central plateau of the country and the city is structured around the imperial palace of Mogho Naaba, a palace built in post-colonial period, with Sudano-Sahelian architecture that "integrates elements of modernity in a traditional dimension."

You can't really visit Ouagadougou without checking out the Rood Wooko market which is located in the centre f the city and is very busy and loud but you can buy most things there. Also check out the local food, especially 'poulet bicyclette', singed chciken, accompanied by the local beer, Brakina. The video (below) shows you around Ouagadougou and gives a good, if sometimes shaky, taste of life in the city.
---
Ouagadougou Profile: Volunteer in Burkina Faso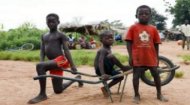 Check out all the latest fee paying and free African volunteer work placements and charity work job opportunities abroad with local projects and volunteering organisations in Burkina Faso.
---
Ouagadougou Profile: Ouagadougou City Map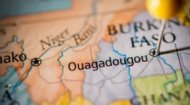 A satellite map of Ouagadougou, capital city of Burkina Faso, which you can use to zoom in to explore each street of the city and its major tourist attractions.
---
Ouagadougou Profile: Ouagadougou Airport



Read facts and figures about Ouagadougou airport close to the capital city of Burkina Faso where you will probably enter the country for your volunteering experience.
---
---
Ouagadougou Profile: Child Sponsor Burkina Faso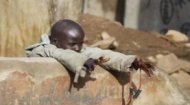 Details of how to sponsor children in Burkina Faso with Burkinabe child sponsor organisations, charities, programs and projects.
---
Ouagadougou Profile: Burkina Faso Profile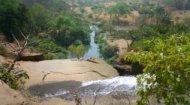 In another of our African country profiles, find out all about Burkina Faso in a series of information articles, latest daily news, videos, and images together with volunteering and child sponsorship opportunities.
---
---