Nairobi Profile

Nairobi, named after the Massai phrase 'Enkare Nyirobi (the place of cool waters), was founded in 1899 by the British as a railway settlement and, soon after, the British colonial capital of Ukamba province was transferred from Masaku (formerly known as Machakos) to the site with Nairobi becoming the capital of the British East Africa Protectorate. Best known as a trading as well as an administrative centre, Nairobi became the official capital of Kenya on independence in 1963 and grew rapidly, perhaps too rapidly as it didn't have the infrastructure to cope with its exponentially growing population with power cuts and water shortages still a problem along with adequate sanitation. In fact its population of 361,000 in 1963 had grown to 4.397 million by 2019.

Although Nairobi, known as the 'Green City in the Sun', has a modern city centre with many attractive features, like many other cities it has a darker side for Nairobi is home to tens of thousands of street children who have contributed to its nickname 'Nairobbery' and also houses Africa's third largest slum some three miles from the city centre at Kibera (see link below). Many of those who live in Kibera make the daily journey into Nairobi desperate to make money to support themselves and their children offering a range of services for the equivalent of just a few pence a day. This is far removed from the money flowing in the city's casino's, theatres and expensive restaurants which offer a full cosmopolitan menu.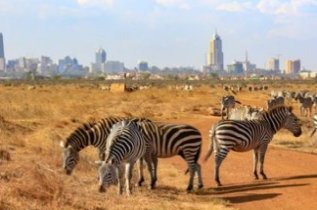 If staying in Nairobi, try and visit the Nairobi National Museum which is about 10 minutes drive from the city centre. Opened in 1929, the museum has collections exploring Kenya's history, nature and culture as well as featuring contemporary art. The botanical gardens at the site are also a great place to chill out. For train enthusiasts, the Nairobi Railway Museum, next to Nairobi's main railway station, is worth a look to as it has a history of the now defunct East African Railways. Opened in 1971, the museum also houses models of railway engines that operated on the 'lunatic line' to Uganda (so named given the huge amount of money it cost to build with such a high cost of life), photographs of the railway throughout its history and other artifacts including an interesting motorized railway bicycle that, history records, did not go on to dominate world transport! Yet. Nairobi is also a good place to stay for those wanting to visit the nearby Nairobi National Park, the Karura Forest reserve and the Giraffe Centre, about twelve miles outside the city and established to protect giraffes.
---
Nairobi Profile: Volunteer in Kenya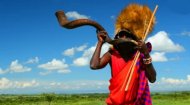 Check out all the latest fee paying and free African volunteer work placements and charity work job opportunities abroad with local projects and volunteering organisations in Kenya.
---

A satellite map of Nairobi, capital city of Kenya, which you can use to zoom in to explore each street of the city and its major tourist attractions.
---
Nairobi Profile: Nairobi Airport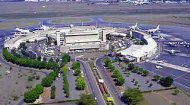 After you've explored our Nairobi profile page, make a virtual landing at Nairobi Airport where you will probably enter Kenya for your volunteering experience.
---
---

Information, facts, images and video about the Kibera Slum in Kenya, a settlement in Nairobi with few basic services such as water or sanitation.
---
Nairobi Profile: Child Sponsor Kenya



Details of how to sponsor children in Kenya with Kenyan child sponsor organisations, charities, programs and projects.
---
Nairobi Profile: Kenya Country Profile



In another of our African country profiles, find out all about Kenya in a series of information articles, latest daily news, videos, and images together with volunteering and child sponsorship opportunities.
---
---