N'Djamena Profile

The capital city of Chad, N'Djamena, was originally called Fort Lamy by the French after Amedee-Francois Lamy, an army officer who had been killed in the Battle of Kousseri. This was a battle fought in May 1900 by the French as part of a plan to occupy the Chari-Baguirmi region and Fort Lamy remained a small settlement until after Chad's independence in 1960. It's name was changed to N'Djamena, from the name of a local village Nigamiena ('Place of Rest'), in 1973 by the then President Francois Tombalbaye as part of a movement across Africa to replace colonial names with African ones and today the city has a population of around 1,476,115 (2021). It is ranked in 226th place out of 231 cities worldwide in terms of the quality of life (2019). Ironically, a 2019 report also ranked N'Djamena as the most expensive city in Africa for expatriates to work in and overall 11th (out of 209) in the world in terms of the average cost of living.

Over the years N'Djamena has been the scene of many conflicts. It was seized and occupied by Libya in the 1980-1981 Chadian-Libya conflict and nearly destroyed during that period with its population fleeing the city, mainly to Cameroon. On 13th April 2006, it was the scene of the 'Battle of N'Djamena' between rebel UFCD and Chadian government forces after the rebels launched an assault on the city in an attempt to overthrow the government of President Idriss Deby Itno or at least disrupt the pending presidential election on 3rd May that year. During that conflict, blamed by Deby on the neighbouring Sudan government, the rebels lost 370 men with a further 271 captured while the Chad military saw the loss of 30 soldiers. An unknown number of civilians were killed and injured. Deby, who had already been Chad's leader for sixteen years, subsequently went on to secure a third third term in office but died at the age of 68yrs on 20th April 2021 while still in office after succumbing to gunshot injuries sustained during another conflict with rebels in the north of Chad.

N'Djamena itself is located on the Chari River facing the town of Kousseri in Cameroon, to where it is connected by a bridge and has seen rapid growth since the end of the Second World War when its population was just 18,435. Much of this rapid growth, which has caused its own difficulties not least in terms of planning, housing and water issues, has been as a result of thousands fleeing to the city to escape conflicts. N'Djamena serves as the financial centre of Chad but its economy is mainly driven by cotton growing, cattle raising, and fishing and the city hosts a regional market. In the highly unlikely event you undertake volunteer work in Chad (and the even more unlikely event you decide to stay in N'Djamena), tourist attractions include the Chad National Museum (close to the Kempinski Hotel) that, although still worth a look, lost most of its exhibits during Chad's conflicts, The Grande Mosquee, the N'Djamena Cathedral (located at the intersection between Avenue Charles de Gaulle and Avenue FelixEboue). While there, take a glimpse at the nearby Presidential Palace. Just north of N'Djamena, is the 'tourist centre' of Douguia from where you can take boat trips on the Chari River. If visiting the capital, it's best to remember that N'Djamena, like the country, is very much one of two cultures of the Arabic north and the more western orientated south with its bars and live music.
---
N'Djamena Profile: Volunteer in Chad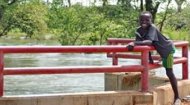 Check out all the latest fee paying and free African volunteer work placements and charity work job opportunities abroad with local projects and volunteering organisations in Chad.
---
N'Djamena Profile: N'Djamena City Map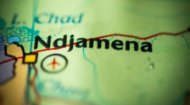 A satellite map of N'Djamena, capital city of Chad, which you can use to zoom in to explore each street of the city and its somewhat limited tourist attractions.
---
N'Djamena Profile: N'Djamena Airport



After you've explored our N'Djamena profile page, make a virtual landing at N'Djamena Airport where you will probably enter Chad for your volunteering experience.
---
---
N'Djamena Profile: Child Sponsor Chad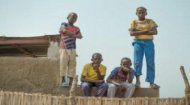 Details of how to sponsor children in Chad with Chadian child sponsor organisations, charities, programs and projects.
---
N'djamena Profile: Chad Country Profile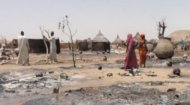 In another of our African country profiles, find out all about Chad in a series of information articles, latest daily news, videos, and images together with volunteering and child sponsorship opportunities.
---
---