Roberts International Airport

Two airports serve the capital city of Monrovia in Liberia, however it is Roberts International Airport, named after the country's first president, Joseph Roberts, that is the main international airport, locally referred to as Robertsfield or just "RIA". Monrovia's other airport, James Spriggs Payne Airport (named after James Spriggs Payne who was president of the Republic of Liberia in 1868-70 and again in 1876-78 and known as Spriggs Payne), is located just three miles from Monrovia but is much smaller, today mainly operating as a UN outpost for helicopter and aircraft operations. Roberts International Airport itself is located some 35 miles south-east of Monrovia and was originally built by the United States government as an Air Force base with a runway long enough for B-47 bombers to land for refueling, giving Liberia what was for many years the longest runway in Africa. In fact, from the end of World War II until 1985, the airport was administered and operated by Pan American under contract with the Republic of Liberia's Ministry of Transport. It was also earmarked as an emergency landing base for the then Space Shuttle program.

The airport operates flights with Brussels Airlines, ASKY, Air France, Kenya Airways, Air Cote d'Ivorie, Royal Air Madoc and Africa World Airlines. It is soon to be home to Lone Star Air, the national airline successor to the now defunct Air Liberia, which will operate flights to Accra, Abidjan, Abuja, Banjul, Bissau, Conakry, Dakar, Freetown, Lagos, Ouagadougou, and Sao Tome when fully operational. Roberts International currently serves around a third of a million passengers a year and a new passenger terminal opened in 2018 to upgrade the facility to bring it up to expected international standards. Today, unlike many other airports in Africa, Roberts International Airport is a generally relaxed and friendly place with no need to drop any money into the hands of custom's officials to 'ease' the arrival or departure process although would be deemed somewhat chaotic compared with European airports. The airport has bars and restaurants in the main departure halls as well as duty free shops and banking and postal facilities close-by. In the short video (below), make a virtual landing at the airport as you fly in over the skies of Liberia then explore Monrovia itself.
---
Monrovia Airport: Volunteer in Liberia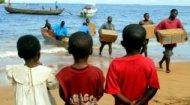 Check out all the latest fee paying and free African volunteer work placements and charity work job opportunities abroad with local projects and volunteering organisations in Liberia.
---
Monrovia Airport: Monrovia Profile



A complete profile of Monrovia, capital city of Liberia including Monrovia information, facts, pictures and tourist attractions.
---
---
Monrovia Airport: Sponsor Children in Liberia



Details of how to sponsor children in Liberia with Liberian child sponsor programs.
---
Monrovia Airport: Liberia Country Profile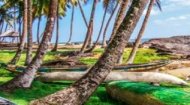 In another of our African country profiles, find out all about Liberia in a series of information articles, latest daily news, videos, and images together with volunteering and child sponsorship opportunities.
---
---