Kinshasa Airport

Kinshasa International Airport is also known as N'djili Airport and its infrastructure dates back to the Belgium colonial period. Named after the nearby Ndjili River, the airport is some twelve miles south-east of Kinshasa city centre and the main air transport hub into the Democratic Republic of Congo and your probable point of entry if you are volunteering there. Overall DRC has 54 airports but only six are classified as 'international' and only 13 have scheduled flights. The other main airports are Lubumbashi International (FBM), Mbandaka (MDK), Gemena (GMA), Bangoka International (FKI), Matari (IRP), Bunia (BUX) and Goma International (GOM). Kinshasa airport is home to the Compagnie Africaine d'Aviation known as flyCAA, being DRC's regional airline operator, and currently services flights from, amongst others, Air Cote d'Ivoire, Air France, ASKY Airlines, Brussels Airlines, EgyptAir, Ethiopian Airlines, Kenya Airways, Rwandair, South African Airways, Turkish Airlines, Uganda Airlines and, of course, Congo Airlines, the state-owned airline of the Democratic Republic of the Congo (DRC) which only flies internally and externally to Cameroon and South Africa with its 'fleet' of four aircraft. Kinshasa Airport was also known for being a landing site for the NASA space shuttle when it operated.

As with many African airports, Kinshasa is somewhat chaotic and the word 'queue' doesn't appear to be part of the local vocabulary. Passengers report that it's worthwhile carrying forty dollars or so in your pockets to 'assist' officials process your documents ($100 is ideal for speed but $40 will cover it if you show your pockets are empty thereafter.) The international terminal in the airport opened in 2015 and boasts of being able to handle up to 500 passengers an hour and one million passengers per year (by contast, London Heathrow handled 80.9 million in 2019.) Step outside and you'll be descended upon by all sorts of characters desperate for your money. Be mindful though, that if you do travel to Kinshasa International, the airport's official website advises against travel into the capital, "We recommend to travel to Kinshasa only if it is needed. Political situation in the country is not stable and there is a safety issue." Business trips only we think!
---
Kinshasa Airport: Volunteer Congo Kinshasa



Check out all the latest fee paying and free African volunteer work placements and charity work job opportunities abroad with local projects and volunteering organisations in Congo Kinshasa.
---
Kinshasa Airport: Kinshasa Profile



A complete profile of Kinshasa, the capital city of the Democratic Republic of Congo, including Kinshasa information, facts, pictures and its limited tourist attractions.
---
---
Kinshasa Airport: Child Sponsor DRC



Details of how to sponsor children in the Democratic Republic of Congo with DR child sponsor organisations, charities, programs and projects.
---
Kinshasa Airport: Congo Kinshasa Country Profile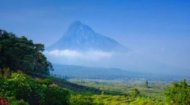 In another of our African country profiles, find out all about Congo Kinshasa in a series of information articles, latest daily news, videos, and images together with volunteering and child sponsorship opportunities.
---
---