Ethiopia Images

Ethiopia's population of some 117 million (2021) is made up from people of many ethnic backgrounds with over eighty languages being spoken. Bordered on the east by by Somalia and Djibouti, to the west by Sudan, to the north by Eritrea (to which it was temporarily annexed by the Italians for a short period) and to the south by Kenya, it is perhaps best known in the UK by the shocking images that led to the Live Aid concert organised by Bob Geldof and others. However today, although chronic food shortages and droughts still occur, Ethiopia has one of the fasting growing economies in the world and is the largest economy in the East of Africa.

As the video (below) shows, Ethiopia is a much more diverse country that generally perceived with high mountain ranges and the source of the Blue Nile that rises in the north-west of the country at a small covered spring at Gish Abbai. Explore the lowlands of south west Ethiopia, the Bale Mountains National Park with its unique blend of wildlife including Ethiopia's largest pack of wolves and the Simien Mountains National Park for trekking opportunities. Ethiopia, itself, is about the size of the UK and France combined with about 12% of its land arable. The land itself is rich in deposits of gold, platinum, copper, and natural gas however is facing increasing desertification through deforestation, overgrazing and soil erosion.

Okay, some interesting facts about Ethiopia! In no particular order: The area of Addis Ababa is the cradle of human life on earth and it is from there that Homo Sapiens set off the explore the world. The northern area of Dallol is the hottest place all year round on earth and Ethiopia is the birthplace of the coffee bean! Ethiopia has its own time system and is 3 hours ahead of Greenwich Mean Time, and a calendar that runs seven to eight years behind the Gregorian Calendar, so you really can step back in time! Ethiopia is also one of the few African countries to have its own alphabet. Nearly one in five Ethiopians live on less that 60p a day and three quarters of poor families share their living and sleeping quarters with their livestock. The average family size in Ethiopia is about six or seven normally living in a 5m x 6m mud hut with thatched roof.
---
Ethiopia Images: Volunteer in Eswatini (Swaziland)



Check out all the latest fee paying and free African volunteer work placements and charity work job opportunities abroad with local projects and volunteering organisations in Eswatini (Swaziland).
---

Use this Google Earth satellite map of Ethiopia in Africa to explore and take a virtual tour of Ethiopia and zoom in on places of interest.
---
---
Ethiopia Images: Child Sponsor Ethiopia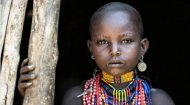 Details of how to sponsor children in Ethiopia with Ethiopian child sponsor organisations, charities, programs and projects.
---
Ethiopia Images: Ethiopia Country Profile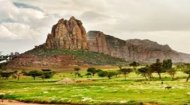 In another of our African country profiles, find out all about Ethiopia in a series of information articles, latest daily news, videos, and images together with volunteering and child sponsorship opportunities.
---
---