Djibouti Airport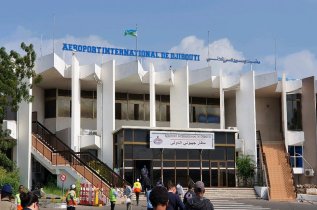 Djibouti airport, or Djibouti-Ambouli International Airport to give it its full name, is one of six airports in Djibouti and, being the only one that is fully paved, is home to both civilian flights and military traffic with Camp Lemonnier on its south side, a base for the United States and French Armed Forces. It serves around 240,000 passengers (2020) a year (compared with approximated 300,000 for Durham Tees Valley Airport) and is normally described as "tiny and pathetic with no air-conditioning which makes the place ridiculously hot and humid." The airport is serviced by Air Djibouti, Air France, Ethiopian Airlines, flydubai, Jubba Airways, Kenya Airways, Qatar Airways, Turkish Airlines and Yemenia Airlines. Daallo Airlines (Somali owned) also has its main hub at the arport.

The location of Djibouti Airport, some 4 miles from Djibouti City centre, on the Horn of Africa within easy range of Somalia and Yemen makes it of important strategic , value. Camp Lemonnier, the former barracks of the French Foreign Legion, is today home to the Combined Joint Task Force - Horn of Africa (CJTF-HOA) of the United States Africa Command and is used for humanitarian, and counter-terrorism efforts in the region. On 3rd June 2021, Egis and Aeroport de Paris Ingenierie (ADPI) signed a memorandum of understanding with the Djibouti Ports and Free Zones Authority for the development of an expanded airport complex in Djibouti with a new cargo terminal that can handle 100,000 tons of air freight a year and an increased passenger capacity to around 1.5 million passengers per annum. The video (belows) shows a landing at Djibouti airport.
---
Djibouti Airport: Volunteer in Djibouti



Check out all the latest fee paying and free African volunteer work placements and charity work job opportunities abroad with local projects and volunteering organisations in Djibouti.
---
Djibouti Airport: Life in Djibouti



Facts and figures about daily life in Djibouti, one of the smallest countries in Africa and a strategic partner of the west, including video of the country.
---
---
Djibouti Airport: Child Sponsor Djibouti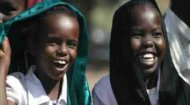 Details of how to sponsor children in Djibouti with Djibouti child sponsor organisations, charities, programs and projects.
---
Djibouti Airport: Djibouti Country Profile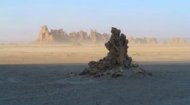 In another of our African country profiles, find out all about Djibouti in a series of information articles, latest daily news, videos, and images together with volunteering and child sponsorship opportunities.
---
---