Dakar Profile

Dakar, the capital city of Senegal, is home to an estimated population of 1.03 million although the wider population of the Dakar metropolitan area is around 3.94 million (2021). Senegal is the closest country to the USA and, as such, had been a main access route for the slave trade, with its nearby Goree Island, then a Portuguese settlement, being the centre of that trade with the processing thousands of men, women and children before they were shipped across the Atlantic Ocean starting in earnest there in 1536. At that time Dakar was little more than a Lebu village and a witness to the changing of control of Goree island between the Portugeuse and Dutch Republic before finally coming under French jurisdiction in 1677.

The French founded what was to become today's Dakar, named after 'dakhar', a local Wolof name for the tamarind tree, in 1857 to protect French traders residing in the area and on Goree island and it grew in importance not least because of its strategic position midway between the mouths of the Gambia and Senegal rivers on the south-eastern side of the Cape Verde Peninsula, close to Africa's most westerly point. In 1886 Western Africa's first railway opened running from Saint-Louis to Dakar giving the fledgling town a further impetus to its development and it replaced Saint-Louis as the capital of French West Africa in 1902 and became one of the major cities of the French empire as, not only did it have a railay connection, but it was strategically important due to its emerging naval base and coaling station in its harbour.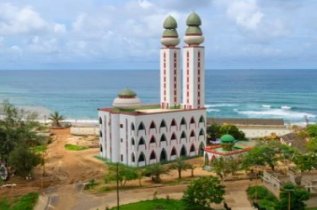 Goree Island (below), two miles off the coast, is now a UNESCO Historical Monument where visitors can gain some insight into the barbarity of that trade. Today Dakar is an exciting city boasting a wide array of nightclubs, festivals and live music, and this level of activity is reflected in the noise of the place together with its street hawkers, and oh so corrupt officials. Nearby are beach hotels and numerous water sports. After you've watched the video (below) about Dakar, make a virtual landing at Dakar International Airport (also known as Leopold Sedar Senghor International Airport) in another of our profile aricles.
---
Dakar Profile: Volunteer in Senegal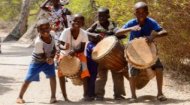 Check out all the latest fee paying and free African volunteer work placements and charity work job opportunities abroad with local projects and volunteering organisations in Senegal.
---

A satellite map of Dakar, capital city of Senegal, which you can use to zoom in to explore each street of the city and its major tourist attractions.
---

Dakar's new Blaise Diagne International Airport was named after a former Senegalese-French political leader and mayor of Dakar and is probably your point of entry into Senegal for your volunteer work.
---
---

A brief history of the island of Goree off the coast of Dakar that was used as a slave trading station.
---
Dakar Profile: Child Sponsor Senegal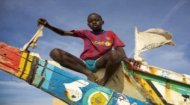 Details of how to sponsor children in Senegal with Senegal child sponsor organisations, charities, programs and projects.
---
Dakar Profile: Senegal Country Profile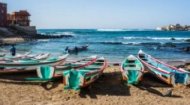 Find out all about Senegal in a series of information articles, latest daily news, videos, and images together with volunteering and child sponsorship opportunities.
---
---