Child Sponsor Togo

Togo, with its population of 8.279 million (2020), is located in West Africa with Ghana to its west, Benin to its east and Burkina Faso to its north with its southern border meeting the Gulf of Guinea. Following independence form France in 1960, Togo came under a number of oppressive regimes until tentative steps towards democracy started to emerge in 2007. Despite this, many see these steps as stalled and Togo remains relatively unstable and one of the poorest countries in the world and, despite being one of the world's main cocoa and coffee exporters, it remains heavily dependant on foreign aid.

Today Togo is in 167th place out of 189 countries and territories in 2019 when ranked in terms of life expectancy, literacy, access to knowledge and the living standards of a country with a life expectancy of 61.04 years (2019). Half of Togo's population live under the international poverty line, one out of every thirty children in Togo die of the preventable disease malaria, accounting for 25% of all childhood deaths, not least because, although the disease in rampant, only about 15% of children under the age of five in Togo sleep under a malaria net despite being available for just a pound or so, but out of the reach of poor families. Less than one in five Togolese is able to use improved sanitation facilities and there are similar deficits in housing, medical infrastructure and education.

Child sponsor programs in Togo work with orphaned and abandoned children, the promotion of children's rights in a country where culturally children are seen to have no such rights and harsh, physical abuse of them is seen as acceptable as is enforced hard labour, access to education and healthcare and developing secure food and water supplies. You can help when your sponsor a child in Togo.
---
Child Sponsor Togo: The Lighthouse Project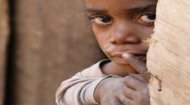 In a shameless bit of self-promotion, read this novel by the African Volunteer Network team about volunteering in Uganda. "Well worth the read especially for those working with non-profits abroad. In fact, it should be required reading."
---
Child Sponsor Togo: Togo Missions



Togo Missions oversee sponsorship and care of the children at the 'God is Great' orphanage. When you sponsor a child in Togo with them you are ensuring your child has three nutritious meals a day, medical needs met and is provided with clothing and school necessities.
---
Child Sponsor Togo: SOS Children's Villages



With SOS Children, you can help orphaned and abandoned children when you sponsor a child in Togo.
---
---
Child Sponsor Togo: New harvest Missions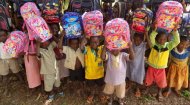 Sponsorship also means that children in Togo can attend school consistently and are equipped with the materials and support they need to succeed and the next as the cycle of poverty is broken in Togo.
---
Child Sponsor Togo: BrightPoint



When you sponsor a child in Benin with BrightPoint you will provide an orphan with food, clothing, healthcare and educational support.
---
---
Child Sponsor Togo: Volunteer in Togo



As well as sponsoring a child why not explore volunteering opportunities in Togo?
---
Child Sponsor Togo: Togo Country Profile



In another of our African country profiles, find out all about Togo in a series of information articles, latest daily news, videos, and images together with volunteering and child sponsorship opportunities.
---
---