Child Sponsor Sierra Leone

Today Sierra Leone is perhaps best known for one of the most savage and cruel civil wars in the history of mankind. Infrastructure, including thousands of schools, had became just piles of rubble and the nation was emotionally scarred for generations not least the country's children, thousands of whom had been enforced under pain of death to become child soldiers. Thousands more became orphans and for many their lives are still traumatised. Today Sierra Leone is in 182nd place out of 189 countries and territories in 2019 when ranked in terms of life expectancy, literacy, access to knowledge and the living standards of a country with a life expectancy of 54.70 years (2019). According the World Bank, 44.2% of the popluation live in poverty ranging from 60% in rural areas to 20% in urban and there is a child mortality rate (under fives) of 109.2 deaths per 1,000 live births in 2019. According to UNICEF, nearly half of a million of children under the age of five are stunted while 30,000 are suffering from malnutrition. In 2018, adult literacy rate for Sierra Leone was 43.2 %.

Child sponsor programs in Sierra Leone work with orphaned, disabled and abandoned children, access to health, nutrition and AIDS awareness programs, education access projects and vocational training for teenagers as well as counselling services. Other work is undertaken with poor children who are most at risk of trafficking when their families simply give them away either because they can't afford to care for them or in exchange for false promises of a better life for the child. Many of these children end up in forced manual labour, domestic servitude or, for girls, worse. You can help when you sponsor a child in Sierra Leone.
---
Child Sponsor Sierra Leone: The Lighthouse Project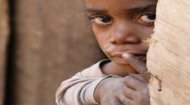 In a shameless bit of self-promotion, read this novel by the African Volunteer Network team about volunteering in Uganda. "Well worth the read especially for those working with non-profits abroad. In fact, it should be required reading."
---
Child Sponsor Sierra Leone: SOS Children's Villages



With SOS Children, you can help orphaned and abandoned children when you sponsor a child in Sierra Leone.
---
Child Sponsor Sierra Leone: Sierra Leone Education and Development Trust



Not a child sponsor program as such but your support will help enable children and young people in Sierra Leone to access education and get the mobility equipment they need.
---
---
Child Sponsor Sierra Leone: All for One



All For One Foundation has partnered with Sierra Leone International Mission School (SLIMS) in Freetown, Sierra Leone to build a Sierra Leone Child Prosperity Center to function as a safe haven for children and families in need of additional support and services.
---
Child Sponsor Sierra Leone: CARDO Sierra Leone



When you sponsor a child in Sierra leone with CARDO, you achieve a special kind of giving that creates a relationship between you and the community where CARDO's professionals are helping to change the future. Sponsorship provides essential aid and education to improve the well-being of children.
---
---
Child Sponsor Sierra Leone: Sierra Leone Children



Find out more about children's lives in Sierra Leone in information, facts and video.
---
Child Sponsor Sierra Leone: Volunteer in Sierra Leone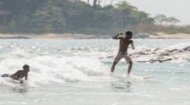 As well as sponsoring a child why not explore volunteering opportunities in Sierra Leone?
---
Child Sponsor Sierra Leone: Sierra Leone Profile



In another of our African country profiles, find out all about Sierra Leone in a series of information articles, latest daily news, videos, and images together with volunteering and child sponsorship opportunities.
---
---