Child Sponsor Algeria

Algeria with its population of 43.85 million (2020) has seen much conflict since its fight for independence from France in 1962, a war that saw more than a million of its population killed. Since then it has continued to witness much conflict not least between government forces and Islamic militants in the 1990s and it continues to suffer attacks from the al-Qaeda in the Maghreb group. As a major exporter of oil and gas on the doorstep of Europe, Algeria is in 91st place out of 189 countries and territories in 2019 when ranked in terms of life expectancy, literacy, access to knowledge and the living standards of a country putting it above other Arab states and above average world development although outside coastal areas where most of the population reside, a third of the child population live in poverty.

As such, unlike many other countries in Africa, there is little need for child sponsor programs in Algeria, however there remain real issues regarding the emotional wellbeing of children, many of whom have grown up in the aftermath of a civil conflict that lasted more than a decade during which some 100,000 lost their lives. There is also the issue of around 165,000 Saharawis from the Western Sahara living in semi autonomous refugee camps in Algeria, completely dependent on foreign aid. The United Nations reports that 10% of the children there (below) suffer from acute malnourishment and the camps have limited access to safe water being desert based. Matters have been compounded in recent years with flash rains and floods that have engulfed the camps.

Algeria has very few street children, less than a thousand, however, of those children living on the streets, most cite family violence as the reason whilst others explain their decision to leave home being down to poor housing with Algeria having a chronic housing problem with one of the highest house occupancy rates in the world with many children living in cramped conditions particularly in urban areas, weak social and education services, unemployment and poverty. Some children have also stated that television has made them aware that a better life is available if it is searched for. You can help when you sponsor a child in Algeria.
---
Child Sponsor Algeria: The Lighthouse Project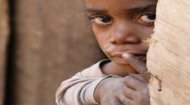 In a shameless bit of self-promotion, read this novel by the African Volunteer Network team about volunteering in Uganda. "Well worth the read especially for those working with non-profits abroad. In fact, it should be required reading."
---
Child Sponsor Algeria: SOS Children's Villages



With SOS Children, you can help orphaned and abandoned children when you sponsor a child in Algeria.
---
---
Child Sponsor Algeria: Ecouter L'Enfant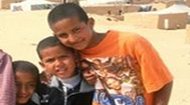 Sponsor a child in the Kabylia and the Oran regions of Algeria and provide education and medical care.
---
Child Sponsor Algeria: Volunteer in Algeria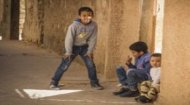 As well as sponsoring a child why not explore volunteering opportunities in Algeria by checking out all the latest fee paying and free African volunteer work placements and charity work jobs in Algeria?
---
Child Sponsor Algeria: Algeria Profile



Find out all about Algeria in a series of information articles, latest daily news, videos, and images together with volunteering and child sponsorship opportunities.
---