Cameroon Images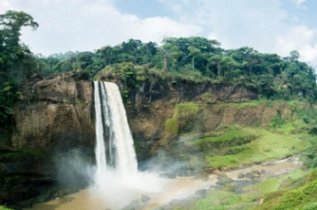 Cameroon, with its population of 25.88 million (2019), is located in western central Africa having 249 miles of coast on the Gulf of Guinea/Atlantic Ocean coastline known as the Bight of Biatra. Cameroon is further bordered by Nigeria to its west, Chad to its north-east, the Central African Republic to its east and Equatorial Guinea, Gabon and the Republic of the Congo to its south.

Slightly larger than California, Cameroon is sometimes referred to as 'Africa in Miniature' with golden beaches, tropical rainforests, lakes, deserts, savannahs as well as volcanic mountain ranges and an abundance of wildlife including lions and elephants. On this line lies Lake Nyos, a lake that suddenly 'exploded' in 1986 releasing a large cloud of CO2 gas which killed 1700 people and 3500 of livestock. There are concerns that such an event may also occur at Lake Kivu in Rwanda, Kivu being one of Africa's two other exploding lakes.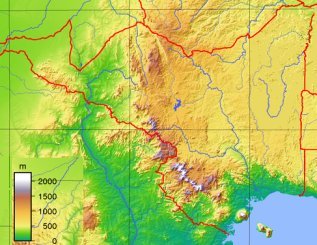 Cameroon has a number of rivers including the Wouri, Sanaga, Nyong, and Ntem which flow into the Gulf of Guinea; the Dja and Kadei which are tributaries of the Congo River; the Benoue River that runs into Niger and the the Logone River that flows into Lake Chad. Other minor rivers include the Aina River that forms part of the border between Cameroon and Gabon, the Campo River which forms part of the border with Equatorial Guinea and the Mayo Kebbi River which flows into Lake Fianga, a lake shared between Cameroon and Chad. Places in Cameroon well worth a visit include the Musa Heritage Gallery, Waza National Park, Campo Ma'an National Park and, of course, Mount Cameroon itself. The video (below) provides images of Cameroon and offers a good 'look and feel' of the country.
---
Cameroon Images: Volunteer in Cameroon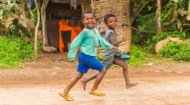 Check out all the latest fee paying and free African volunteer work placements and charity work job opportunities abroad with local projects and volunteering organisations in Cameroon.
---

Use this Google Earth satellite map of Cameroon to explore and take a virtual tour of Cameroon in Africa and zoom in on places of interest.
---
---
Cameroon Images: Child Sponsor Cameroon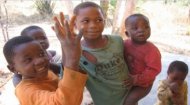 Details of how to sponsor children in Cameroon with Cameroon child sponsor organisations, charities, programs and projects.
---
Cameroon Images: Cameroon Country Profile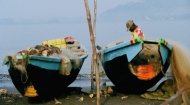 In another of our African country profiles, find out all about Cameroon in a series of information articles, latest daily news, videos, and images together with volunteering and child sponsorship opportunities.
---
---