Burkina Faso Poverty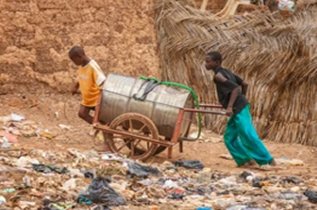 Burkina Faso is one of the poorest countries in the world with 40.1% of its population living below the national poverty line, ranking 144th out of 157 countries on the new human capital index established by the World Bank. Suffering from limited natural resources and being landlocked, the country also has a high population density being home to 20.32 million (2019) citizens, many of who carry the AIDS virus although this has dropped significantly since 2010. In 2019 Burkina Faso public debt was $6,719 million having increased by $619 million since 2018 meaning the debt in 2019 reached 42.67% of Burkina Faso GDP, a 5.02 percentage point rise from 2018, when it was 37.65% of GDP. (By contrast the much richer UK had a national debt of 85.4% of GDP in 2019, although finds it easier to service that debt.)

The majority of Burkinabe are engaged in subsistence farming growing peanuts, shea nuts, sesame, sorghum, millet, corn and rice as well as rearing livestock however the country, along with many West African countries, has serious water issues with only two rivers that flow throughout the year. As such, much of the food required is imported from abroad, with rice being imported from places as distant as the Far East. Naturally this has cost implications when dealing with such basic necessities.

The country's main exports are cotton and gold, and again, the country was badly hit by the economic global downturn in the latter part of the first decade of the twenty-first century. The dire economic situation in recent years has been exascerbated by the emergence of armed groups who have spread over the Sahel region causing a humanitarian and security crisis that originated in northern Mali in 2012. This conflict has now consumed the Liptako-Gourma area in the Mali-Burkina-Niger Faso border region and has led to a 1200% increase in the number of people forced to flee their homes in the area with the number of IDPs in 2019 jumping ten-fold to 560,000 with a further 200,000 people displaced by the beginning of 2020.

It is estimated that 2.2 million people are now in need of humanitarian assistance with 1.9 million people now in urgent need of water. This in a country already in 182nd place out of 189 in 2019 in countries and territories based upon the life expectancy, literacy, access to knowledge and living standards of a country with levels of poverty and living standards in Burkina Faso falling far short of even sub-Saharan standards. The short video documentary below explores the current poverty situation in Burkina Faso and some of the causes of its recent exacerbation.
---
Burkina Faso Poverty: Volunteer in Burkina Faso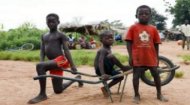 Check out all the latest fee paying and free African volunteer work placements and charity work job opportunities abroad with local projects and volunteering organisations in Burkina Faso.
---
Burkina Faso Poverty: Life in Burkina Faso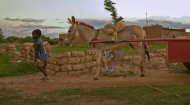 Life in Burkina Faso: Facts and figures about daily life in Burkina Faso, one of the world's poorest countries, together with a video documentary about life in Burkina Faso today.
---
---
Burkina Faso Poverty: Child Sponsor Burkina Faso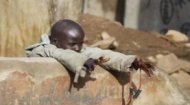 Details of how to sponsor children in Burkina Faso with Burkinabe child sponsor organisations, charities, programs and projects.
---
Burkina Faso Poverty: Burkina Faso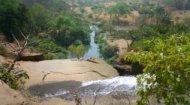 In another of our African country profiles, find out all about Burkina Faso in a series of information articles, latest daily news, videos, and images together with volunteering and child sponsorship opportunities.
---
---