Burkina Faso Images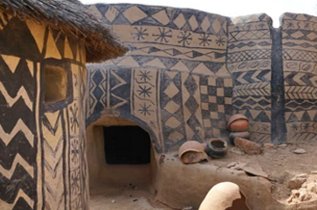 You know when you start watching a video of images of Burkina Faso and it starts off with pictures of the president followed by the by-line 'Land of Upright People' that you're not going to get a critically challenging review of the country, one of the poorest countries on the planet. Yet this video, created to celebrate the fiftieth Burkina Faso's independence in 1960, still provides a useful insight into the country with a sequence of images depicting its people, towns, rural communities and countryside. Burkina Faso, meaning 'the country of honourable people' is a neighbour to Mali to the north, Niger to the east, Benin to the south-east, Togo and Ghana to the south and Cote d'Ivoire (Ivory Coast) to the south-west.

Burkina Faso is a country with a tropical climate with warm, dry winters and hot, wet summers. It is poor in natural resources; limited to manganese, limestone, marble, phosphates, pumice, salt with small deposits of gold. Most of the population of 16.7 million live in poverty in rural communities, scratching out a living on land, of which less than 18% is arable, that is increasingly turning to desert and suffering from recurring droughts.

Its topography is shown above. Burkina Faso has three main rivers, the Black Volta, Red Volta and White Volta and is also home to the Banifing River (though mainly In Mali providing a boundary between the two countries), Beli River, Komoe River (again, forming the border between Burkina Faso and Cote d'Ivoire), Oti River (forming part of the boundaries between Benin, Burkina Faso as well as Togo and Ghana), Sirba River (that forms part of the boundary between Burkina Faso and Niger) and Tapoa River (which, again, forms part of the boundary between Burkina Faso and Niger.) Places to visit in Burkina Faso include the modern Musee Nationale devoted to local cultures, La Faret, a popular Park in Ouagadougou and also the park of the Forest Knowledge there which is seen as a spiritual retreat. The Centre Cultural Francaise in the town of Bobo Dioulasso is also worth a visit for those who enjoy art and music.
---
Burkina Faso Images: Volunteer in Burkina Faso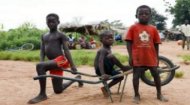 Check out all the latest fee paying and free African volunteer work placements and charity work job opportunities abroad with local projects and volunteering organisations in Burkina Faso.
---
Burkina Faso Images: Burkina Faso Map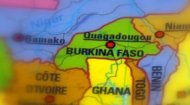 Use this Google Earth satellite map of Burkina Faso in Africa to explore and take a virtual tour of Burkina Faso and zoom in on places of interest.
---
---
Burkina Faso Images: Child Sponsor Burkina Faso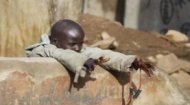 Details of how to sponsor children in Burkina Faso with Burkinabe child sponsor organisations, charities, programs and projects.
---
Burkina Faso Images: Burkina Faso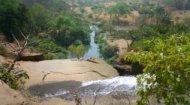 In another of our African country profiles, find out all about Burkina Faso in a series of information articles, latest daily news, videos, and images together with volunteering and child sponsorship opportunities.
---
---