Bangui Profile

The capital city of the Central African Republic, Bangui, is situated on the Ubangi river (the largest tributary of the Congo river) and was founded in 1889 as a French military outpost and became the country's capital city on gaining independence from France in 1960. Today the city and its surroundings are home to around 910,000 (2021) of the republic's 4.83 million (2020) population. As with may busy cities, the streets are bustling with beggars and street vendors, selling everything from food, clothes, even cars and paintings all wrapped up in an run down environment laden with litter. Although predominately an administraive centre, there is some employment within the brewing and soap making industries together with the downstream port from where commodities are shipped including diamonds, cotton, timber, coffee, and sisal whicxh produces a fibre widely used in rope making, mats, rugs, and brushes.

Bangui is perhaps best accessed via the Bangui-Mpoko International Airport, however there is also a ferry service to the Democratic Republic of the Congo and roads linking the city to Chad and Cameroon. Whilst hardly a tourist destination of choice, should you ever end up in Bangui, maybe spend a little time checking out the Boganda National Museum located in the city centre which serves as the national museum of the CAR and has exhibits including the arts and traditions of country and can be found in a colonial villa in the Rue du Languedoc. Of particular interest is the section that explores the life of ethnic pygmy peoples. Also worth checking out are Notre-Dame of Bangui Cathedral and the Big Mosque which is somewhat shell shocked (literally) and often used as a refuge for those seeking shelter from the city's violence. There are also beer and coffee tours for the willing!

The video (below), though a bit shaky, gives a good look and feel of the city of Bangui. Oh, and in the unlikely event you're a visiting tourist and get offered an African Grey parrot in Bangui, say no, or you'll be arrested and you really wouldn't want to spend time in a prison in the Central African Republic and certainly not in Bangui which, in a 2019 quality of living survey, came in second last place (230) out of 231 countries, second only to Baghdad in last position (231). Check out the video (below) for more insights into Bangui today.
---
Bangui Profile: Volunteer in Central African Republic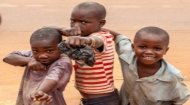 Check out all the latest fee paying and free African volunteer work placements and charity work job opportunities abroad with local projects and volunteering organisations in the Central African Republic.
---
Bangui Profile: Bangui City Map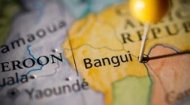 A satellite map of Bangui, capital city of the Central African Republic, which you can use to zoom in to explore each street of the city and its major tourist attractions.
---
---
Bangui Profile: Child Sponsor CAR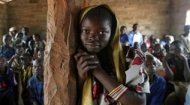 Details of how to sponsor children in the Central Africa Republic with CAR child sponsor organisations, charities, programs and projects.
---
Bangui Profile: Central African Republic Profile



In another of our African country profiles, find out all about the Central African Republic in a series of information articles, latest daily news, videos, and images together with volunteering and child sponsorship opportunities.
---
---